New Canadiana :: Sugar Boys – General Store / Back to Business
---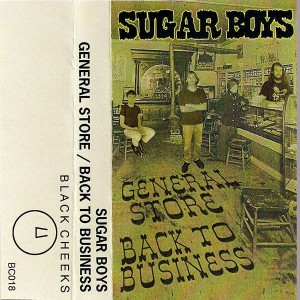 Sugar Boys
General Store / Back to Business
Montréal, QC
From the dense fuzz of Joni Sadler:
They burst out of the gates with a wall of dense fuzz and it doesn't slow down from there: Sugar Boys, the allegedly time-travelling Montreal trio, serve up an undeniably heavy serving of psych rock on their debut tape. Vocals wail un-decipherably in the background. The intensity grows; drums smash harder and guitar solos snake in and out of the sonic depths. These are steady, heavy jammers for sure, yet they retain enough dynamism to keep things interesting over the sprawling expanse of tape. Max volume listening required.
Du fuzz épais de Joni Sadler:
(Traduit par l'enthousiaste voyage temporel de Hugo Hyart-Dauvergne)
Ils défoncent les portes, couverts d'un mur épais de fuzz, et à partir de ce moment, rien ne les ralentira: Sugar Boys, le trio Montréalais et prétendument voyageur du temps, nous sert indéniablement une grosse portion de rock psyché comme première cassette. Des voix indéchiffrables gémissent en arrière-plan. Tout s'intensifie; la batterie tonne plus fort et les solos de guitares serpentent des profondeurs soniques. On a affaire à des musiciens solides et des sessions de jam qui pèsent leur poids, mais qui demeurent assez dynamiques pour susciter l'intérêt tout au long de la durée tentaculaire de la cassette. Volume au maximum requis.
---
---
---