New Canadiana :: Gay – Dance Mix '95
---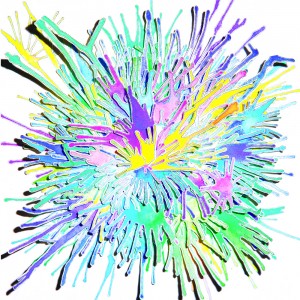 Gay
Dance Mix '95
Toronto, ON
From the aural archaeloogy of Trevor Blumas:
I suggest entering into this album like one does a Dan Brown novel: with a keen eye (or ear) for uncovering hidden secrets. Dance Mix '95 seems to function like a sort of quasi-mystical aural archaeology that unearths a treasure chest of obscure historical and pop-cultural references buried deep below the surface of common knowledge. You will literally transform into a more intelligent being after listening to it!
I now find it extremely difficult not to imagine Gay as anything but a rare and elusive species of chameleon Hardy Boy crooners. They draw their songs from an eerie post-pop mythology, and remain impossible to catch as they continuously morph into different things. But it's always fun to try…
De l'archéologie sonore de Trevor Blumas:
(Traduit par le Indiana Jones intérieur de Nicolas Coutlée)
Il convient d'aborder cet album comme un roman de Dan Brown : l'œil (ou l'oreille) à l'affût de tout secret caché. Dance Mix '95 constitue une sorte de terrain de fouilles archéologiques sonores quasi mystiques où git un coffre aux trésors rempli d'obscurs artefacts de culture populaire enfouis profondément sous la surface des connaissances générales. Vous deviendrez littéralement plus intelligent après une écoute.
Il m'apparaît extrêmement difficile à présent d'imaginer Gay comme autre chose qu'une espèce rare et insaisissable de crooners caméléons émules des frères Hardy. Puisant leurs chansons à même une inquiétante mythologie post-pop, ils restent impossibles à saisir au rythme où ils se métamorphosent en diverses créatures. Malgré tout, il peut toujours être amusant d'essayer…
---
---
---