New Canadiana :: Gal Gracen – Blue Hearts In Exile
---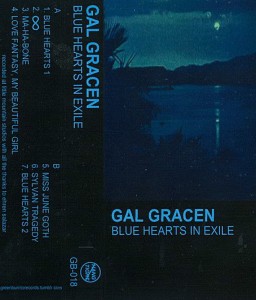 Gal Gracen
Blue Hearts in Exile
Vancouver, BC
From the electrified exotica of Bryce Warnes:
Seven chill communications from Role Mach janglist Gal Gracen make up Blue Hearts in Exile. Alternating between instrumentals and songs – electrified guitar exotica and wavering, soulful proclamations of love – this cassette creates the perfect atmosphere for a romantic night-time beach picnic or basement couch makeout party. "Love Fantasy, My Beautiful Girl" chugs along with an earworming bassline, while "Sylvan Tragedy" glistens with sleazy, falsetto melancholia. These are soft 'n sexy jams for summer '13's Casanovan conquests.
De l'exotisme électrisant de Bryce Warnes:
(Traduit sous la pleine lune par Patrick Du Tremble)
Sept transmissions décontractées par Gal Gracen (projet solo de Patrick Geraghty de Role Mach) constituent Blue Hearts in Exile. En alternant instrumentaux et chansons – entre l'exotisme électrisant de la guitare et les déclarations d'amour chancelantes et émouvantes – cette cassette crée l'ambiance parfaite pour un pique-nique romantique au clair de lune sur la plage ou pour les câlins sur le canapé du sous-sol. La ligne de basse qui transporte "Love Fantasy, My Beautiful Girl" reste ancrée dans la tête, et "Sylvan Tragedy" scintille d'un curieux falsetto mélancolique. La bande sonore douce et sexy des conquêtes casanoviennes de l'été 2013.
---
---
---