New Canadiana :: Breeze – Paradise / Repent
---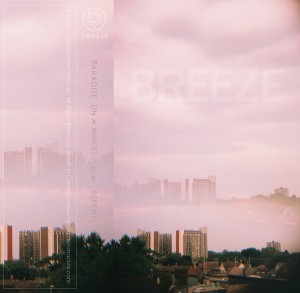 Breeze
Paradise / Repent
Toronto, ON
From the disembodied now of V. Rachel Weldon:
Rapid. Eye. Movement. Breeze's dreamy debut cassingle is a siren song from rose-tinted utopia. Running, or dancing, it inspires oscillatory movement, limbs pumping with ecstatic strokes, and a meter that reverberates throughout from wall to hollow tissue wall of sound. On the two-track cassette from Toronto label Hand Drawn Dracula, dreamweaver Josh Korody opens the perceptual door, and leads us on a stroll through the poppy field. White sneakers, splattered with the romantic muck of teenage nostalgia, disembodied now, tread the bent stems. And as we gaze at them, they become conductors, gorging on static, free floating sole-up atop the interference. Faces smear in your peripherals as your eyelids flicker like bat wings. No one's smiling, but everyone feels fine.
De la désincarnée Rachel Weldon:
(Traduit par l'éternelle adolescente Audrey Roy)
Mouvement. Rapide. De l'œil. L'onirique première cassette single de Breeze est un chant de sirène s'échappant d'une utopie teintée en rose. Que ce soit en courant ou en dansant, cette chanson inspire des mouvements frénétiques et oscillatoires aux membres du corps, qu'ils soient de briques ou de dentelles dans le mur de son, une pulsation miroite. Sur la cassette à deux morceaux de l'étiquette torontoise Hand Drawn Dracula, Josh Korody, tisseur de rêves, ouvre une porte perceptuelle et nous emmènent en balade dans un champ de coquelicots. De vielles baskets blanches vides, tâchées romantiquement de nostalgie adolescente et d'insouciance piétinent ces jolies fleurs et les brisent de leur poids. En les suivant du regard elles deviennent des conducteurs, se gorgent d'électricité statique, flottent librement, et disparaissent comme au-dessus d'interférence. Au coin de l'œil, des visages apparaissent, alors que les paupières battent à la vitesse d'ailes de chauve-souris. Personne ne sourit, mais tout le monde va bien.
Breeze – Paradise (in a while)
---
---
---