New Canadiana :: Babysitter – Tape 666
---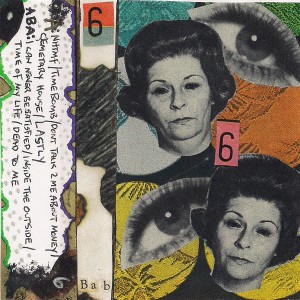 Babysitter
Tape 666
(Self Released)
Victoria, BC
From the deranged ride of Joel French:
Don't let the name fool you. Babysitter has no business being around children. They're loud. They've got riffs. They've got lots of hair. They can be as bizarre as they can be beautiful and it's all wrapped up in recordings so fuzzed out they hum. Tape 666 is a deranged ride (a six-sided triple cassette, to be specific) through the minds of wizards – pissed wizards who dig grunge, like to trip out and have one hell of a pop sensibility. Just lean back, close your eyes and see what dark corners and strange places these tapes will take you.
De l'embarqué déroutante de Joel French:
(Traduit par la plume voyageuse d' AnneMarie Papillon)
Ne vous laissez pas tromper par le nom. Babysitter n'est pas pour les enfants. Ils jouent fort. Ils ont des riffs. Ils ont du cheveu en masse. Aussi bizarre que sublime, leur son est tellement saturé qu'il en bourdonne. Tape 666 est une ballade déroutante (six faces réparties sur trois cassettes, pour être précis) au cœur de l'imaginaire de sorciers – des sorciers dérangés qui tripent sur le grunge, qui hallucinent fort et qui démontrent toute une sensibilité pop. Asseyez-vous confortablement, fermez les yeux et observez dans quelles contrées sombres et mystérieuses ces cassettes vous amèneront.
Babysitter – Way High on the Highway
---
---
---