New Canadiana :: The Ketamines – All the Colours of Your Heart b/w Turning You On
---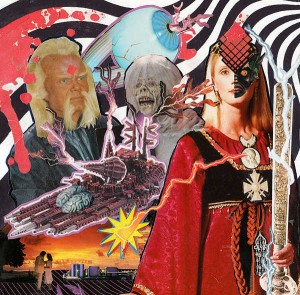 The Ketamines
All The Colours of Your Heart b/w Turning You On
Toronto, ON
From The Mortal Coil of Christopher Laramee:
Tired of smashing your head against the punk rock 'til it bleeds? Nah, me neither. Neither are The Ketamines. As always, they're up to their old tricks again. Side A kicks off proceedings with "Colours"'s wicked Steve-Cropper-jonesing GEETAR licks bumping with some uptight rythym urgency. Hit a sideways pogo to "chase away the gloom", as our heroes say. Besides being a nice (ahem) sexualized horizontal anthem, this punk-as-funk mover's got hooks aplenty. Imagine Sky Saxon lighting boards (JOINTS!, squares!) for The Meters, and you're almost there. Side B's "Turning You On"'s a teen monster movie throb, the one where the zombie rises off the floor and tries to grab some flesh before getting bounced out of the party. I feel like I've seen this show awhile back, but shit, I'm still gonna watch! This single's the first in a four-part series that, when all the covers are assembled, form a certain kind of Jedi-soft-core-daytime pleasure zone. Everyone stays safe, while still feeling threatened. Ummm, Rock'n Roll !?!??!
De l'Enveloppe Mortelle de Christopher Laramee:
(Traduit par le mambo de Hugo Hyart-Dauvergne)
Vous en avez assez de vous taper la tête contre le punk rock jusqu'à ce que ça saigne ? Nan, moi non plus, pas plus que les Ketamines. Comme toujours, les voilà de retour pour nous jouer leurs bon vieux mauvais tours. La face A lance les festivités en procédant avec un méchant jones-ment à la Steve Cropper et des coups de GUITARRRE bien léchés qui s'entrechoquent avec une envie pressante de rythme crispé. Lance-toi dans un pogo sur le trottoir « pour chasser la morosité », pour reprendre les mots de notre héros. En plus d'être une hymne sympa (ahem) sexualisée et horizontale, ce mambo aussi-punk-que-funk est largement fourni en airs entraînants. Imaginez Sky Saxon qui allume des oinjs (des JOINTS ! bandes de coincés du … !) pour The Meters et vous y êtes presque.
La Face B, « Turning On », est un bombardement de films de monstres pour adolescent, celui où le zombie sort du sol et essaie d'attraper un peu de chair fraiche avant de se faire éjecter. C'est comme si j'avais déjà vu ce truc il y a longtemps, mais merde, ça va pas m'empêcher de le reregarder. Ce single est le premier d'une quadrilogie qui quand on en assemble les couvertures forme une certaine sorte de zone de plaisir Jedi-softc¬ore-en-journée. Tout le monde est à l'abri, tout en se sentant menacé. Heeeeeeuuuum, Rock'n Roll !?!??!
The Ketamines – All the Colours of Your Heart
The Ketamines – Turning You On
---
---
---