New Canadiana :: Bitter Fictions – Bitter Fictions
---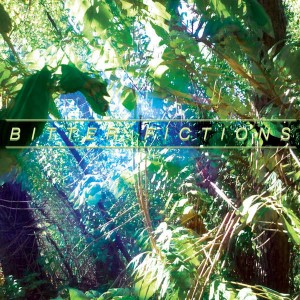 Bitter Fictions
Bitter Fictions
Calgary, AB
From the drifting cacophony of David Ferris:
For a guy who spends all day selling / writing about records — working at the much beloved Sloth and penning his weekly column for FFWD, Calgary's arts and news rag — Devin Friesen must relish the opportunity to revel in the disruption of the self-repressive fictions of "one-person/one-guitar," which he lays to waste in his Licht-ian/Niblock-ian efforts. Instead of singer-songwriter sensitivities, post-rock's predictable set-plays of major key peaks and valleys (or anything else generally expected), we are given eight patient and slow-burning pieces for chiming guitars, stochastic piles, negative space, extended technique, needles and pins, dense haze, ringing tones and expansive drones. Unpredictable, but not frenetic: one man's love affair with feedback, documented with the discerning expertise of when to dog-pile sounds and when to let them breathe.
De la dérive cacophonique de David Ferris:
(Traduit par Vincent Rondeau)
Pour quelqu'un qui passe ses journées à vendre des disques au comptoir bien-aimé de Sloth et à écrire des critiques musicales hebdomadaires pour le magazine culturel de Calgary FFWD, Devin Friesen doit se délecter de pouvoir détruire à souhait les fictions auto-répressives qui entourent « un homme et sa guitare », ce qu'il fait avec un effort lichtien, voire niblockien. Plutôt qu'une sensibilité d'auteur-compositeur-interprète ou de post-rockiste prisonnier des accords majeurs, des crêtes et des creux propres au genre, on a droit à huit pièces, à combustion lente et délibérée, pour guitares sonnantes, accumulations stochastiques, espaces négatifs, techniques étendues, fourmillements, brouillards denses, sonorités brillantes et bourdonnements. Le tout est imprévisible, mais pas frénétique. C'est l'histoire d'amour passionnée entre un homme et le feed-back, ayant pour pierre d'assise l'expertise judicieuse de Friesen, qui sait quand empiler les sons et quand les laisser respirer.
---
---
---