Inferred Views :: Darcy Spidle of OBEY Convention
---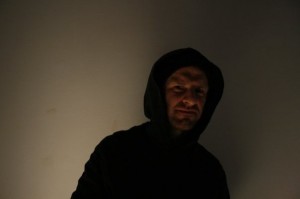 Darcy Spidle
Creative Director of OBEY Convention
Halifax, NS
From the heart of Marie LeBlanc Flanagan:
As OBEY Convention, Canada's "most important musical happenings"[1] emerges for its sixth weekend of furious glory, Marie LeBlanc Flanagan sat down with Darcy Spidle, OBEY's Creative Director, to discuss no-internet small towns, Halifax, Torso, OBEY's recent not-for-profit status, and the upcoming convention.
Marie LeBlanc Flanagan: Where does your excitement about music come from?
Darcy Spidle: I've been involved with music in one way or another since I was a toddler and have recorded and played in bands for most of my life. I was releasing and selling self made tapes in early junior high. Music is fascinating to me on both a conceptual and emotional level. It can seriously alter your state of mind and even change your life, especially in a live setting. And yet, it's all just this invisible, abstract entity. What's not to like?
As for running a label and festival, I guess that all stems from an interest in DIY projects. There's nothing more satisfying to me than seeing a plan come to life. Although I love playing music, I've never been the most talented musician. OBEY and DIVORCE are places I found in the music community where I can make a decent offering to people and utilize my skills. And despite the administrative elements, I look at both the festival and label as art projects similar to an album, movie, or painting.
Do you have any stories about early musical formative experiences? Were there any strong figures in your life that pushed you in this direction?
Sure, my mom and dad were big into music, mostly through their church. My brother and I grew up around guitars and singing. We were playing music for full church services and Sunday Schools as pre-teens. haha… Of course, we could only listen to Christian music, so we had a secret tape collection of rock and heavy metal that would sometimes get raided and destroyed. I remember being forced to read Guns and Roses lyrics out loud as a way of being shamed. Funny stuff. But yeah, my parents were always supportive in their own way.
It took awhile to really learn anything at all about music (still learning). I grew up with no internet in a small town. Early musical influences were limited to what I heard from friends, magazines, the local Radio Shack and Much Music. I watched City Limits religiously. I remember the "Dirty Boots" video from Sonic Youth being a big moment. Also, an older skateboard friend let me listen to half a Dead Kennedy's song on his walkman outside the Bank of Montreal when I was 12 or 13. That really blew my mind. I'd never heard anything like it. As I got older, I started buying tapes of local bands during rare trips to the city. One of my most cherished was the Eric's Trip – Peter cassette. I bought it on a church trip to Moncton.
Haligonians have migrated all across Canada. Why have you stayed? Is there something special about the city?
I'm a bit of a hermit and definitely have Nova Scotia and the sea in my blood. I'm very happy here and have never considered moving. If playing in a band or being social were my main pursuits, I suppose moving would be a good option, but I can live cheap and run a label and festival from here. Although I now reside a bit outside of Halifax, I do very much consider myself a Haligonian. Like a lot of arty teenagers from small towns, I felt like an outsider during my high school years and into early adulthood. Moving to Northend Halifax changed all that. It was the first time I'd ever felt like I belonged. I think Halifax is that way for a lot of people. Considering its small size, Halifax is a very cultural town that affords artists an opportunity to thrive and be seen and heard. And of course, we've always had an amazing music scene. This community is a very important part of my life, and I'm grateful to have a small role in it.
Tell us about Obey.
The OBEY Convention was started in 2007 by Sandy Saunders (aka Torso) and myself. I was doing the odd experimental shows at a place called Salvation in Halifax. DIVORCE put out a local experimental comp and some Torso releases around that time. I was also recording and performing an experimental solo thing called Shit Cook. The time was right. Sandy was pals with Bastard Noise from San Francisco. They decided to come up here, so we built a festival around it. No one in town was really offering a space for that kind of punk inspired experimental stuff, so we did it.
Obey Convention doesn't adhere to any single genre or sound. What's your curatorial process? What do you love?
Well, I subscribe to a very loose criteria, and I believe that it is important to let things evolve naturally with OBEY. It gets called an experimental music festival quite often, but I try not to ever categorize it that way. I know the purists roll their eyes when they see that tag applied. However, I do think the experimental flavour is an important characteristic of our program. And I look for bands and artists that are experimenting in some way, whether it's a band like Pissed Jeans who push past the restrictions of hardcore punk, or an artist like Pete Swanson who explores the intersection of noise and minimal techno. I believe that all our artists are bringing something new to the table. And gathering all these genres and ideas together for one intimate weekend is bound to further perpetuate this sort of exploration.
The curatorial process for me is very organic. I sometimes chat with artists for a number of years about coming to Halifax. That was the case with Corsano and Pissed Jeans. I also chat with friends from around North America who have eyes and ears on the ground. My partners at the fest and knowledgeable friends also help with these decisions.
I like to have someone somewhere vet the live show of each of our artists, especially the headliners. And, of course, I have to really like what I hear and be excited about it. So things just start to take form and I go. I never have a preconceived idea of what OBEY will look like by the time we announce. There's no agenda. People can complain that there's not enough of this or that, but I don't go into it with any overall plan. I try to let each installment take its own form.
Once I have a rough lineup, it becomes this puzzle in my mind. I usually don't sleep much for a couple of weeks as I try to schedule the festival and fill in the blanks. It's probably one of the most painful parts of the process. Since the festival follows from one event the next, it really needs to work as an entire movement. That takes a lot of work and thought. I can tell it's done when I start to feel some psychological relief.
As for what I love, it can be anything. I'm not interested in one particular genre or sound. I do try to book some kind of virtuoso every year. This year it's Chris Corsano. I'm fascinated by the idea of someone dedicating their life to the perfection of an instrument. I also like sonically intense live performances and studies in volume. I'm expecting Swanson to come through on that one. And of course, punk in one form or another will hopefully always play a role at our festival. I think the DIY ethic and anti-mainstream agenda of the early American punk movement is really the starting point for many of the genres we present.
Who helps with Obey Convention? What do they do?
It's a big list at this point. Matthew Samways from Electric Voice is the assistant director. He helps with curation and all the artist needs logistics. He's much more organized than me, and I couldn't do it without him. Evan Cardwell has been with the fest since early on. He manages sound and other tech needs for every event. During the weekend, he has the most intense job. Evan also helps with curation and presentation ideas. I usually go to him when I'm really stuck. Seth Smith does all our design. I think it is important for the festival imagery to be more about art than marketing. The imagery he comes up with represents us perfectly. Kat Shubaly is another one of our super organized people. She runs all the box office ticketing stuff during the festival. Meg Yoshida does our layout and puts together our festival guide. Andrew Patterson is one of our writers and the all around man. The list goes on, and we have any amazing and supportive board of directors as well – Nancy Urich, Natalie Slater, Matt Charlton, Dan Joyce, and Derrick Hiltz.
Attending Obey we've witnessed the incredible support from the arts community in Halifax. What kind of relationship does Obey have to the community? Is it growing? Where will it go next?
As I mentioned, Halifax is a special place. The arts community is so welcoming and supportive. I feel like a little kid sometimes, always asking more knowledgeable people for help and advice. The festival is growing, and that wouldn't be happening without this guidance and support. Again, I feel so lucky to be a part of it all. If you take a look at our sponsors, you'll see just how many people pitch in. It's remarkable to me, especially considering the obscure nature of some of our presentations.
And yes, we feel a sense of love for OBEY from the attendees and the artists. It's not always been easy to pull off. When it becomes a real struggle, it's all the people who look forward to the festival and offer their help that keep us on track.
I am motivated to make the OBEY Convention grow, for sure. Being as passes and some shows have been sold out for more than a month, it's become obvious that we have, in some ways, out grown our venues and need to look at ways to accommodate more people. That's exciting, but also challenging. It's that sense of community and intimacy that is so important to OBEY. I could see it all being lost by growing in the wrong direction. We'll all get together in the summer and figure out the right way forward. We have some ideas.
Tell us about your hardest Obey moment.
There have been many hard moments, especially in the planning stages. It can be a real challenge on many levels. As far as an actual event, we had someone smash out a huge window at one of our venues during OBEY II. It was a weird situation that cost us a lot of money that we didn't have. It was both an emotional and financial slap in the face after a tough few months of work.
And the Obey moment(s) that made it all worth it.
A defining moment for OBEY was when that very window was paid for within 24 hours by donations from the audience and supporters from across the country. haha… It was very overwhelming for me to see it happen. I'm pretty sure that experience has something to do with why the OBEY Convention still exists. That feeling of support really stuck with me.
Besides that, there have been just so many amazing performances over the years. I can't begin to list them all. I'd feel a real loss if I didn't have these shows to look forward to each spring.
Fast Five
Favorite release forever: Alice Coltrane – Journey in Satchidananda
Favorite live music moments forever: hmm… recent highlights – Bastard Noise – OBEY I, Michael Hurley – Sappy 7, Pierre Bastion – OBEY IV, Merzbow – Reflux, Eric Copeland – OBEY – 5, Dirty Beaches – OBEY 4, Grouper – St. David's, Willie Nelson – Metro Centre, Colin Stetson at Halifax Jazz Fest and on and on…. I could never pick one, and my memory doesn't go back too far!
Favorite spots in Halifax: The Khyber, Java Blend, Point Pleasant Park, Barrington St, Fuller Terrace
Favorite surf spot: If I told, I'd be run out of the Eastern Shore.
Favorite living human: Aaron Levin
(Traduit par Catherine Debard et Jean-Étienne Sheehy)
Marie LeBlanc Flanagan: D'où provient ton excitement envers la musique?
Darcy Spidle: J'ai fréquenté la musique d'une façon ou d'une autre depuis que je suis enfant et j'ai enregistré et joué dans des groupes la majorité de ma vie. Je sortais des cassettes que j'avais faites et les vendais lorsque j'étais au secondaire. La musique me fascine à la fois au niveau conceptuel et émotionnel. Elle peut carrément altérer ton état d'esprit, et même changer ta vie, et ce, particulièrement dans un contexte live. Et pourtant, c'est seulement une entité abstraite invisible. Qu'est-ce qu'on peut ne pas aimer?
Pour ce qui est de faire rouler une compagnie de disques et un festival, je crois que ça découle d'un intérêt pour les projets DIY (fais-le toi-même). Il n'y a rien de plus satisfaisant pour moi que de voir un projet prendre vie. Même si j'adore faire de la musique, je n'ai jamais été le plus talentueux. J'ai trouvé en OBEY et DIVORCE l'endroit dans la communauté musicale où je peux offrir quelque chose de décent et utiliser mon savoir-faire. Malgré le côté administratif, je perçois le festival ainsi que le label comme des projets artistiques au même titre que créer un album, un film, ou une peinture.
As-tu des histoires d'expériences formatrices lors tes débuts avec la musique?
Certainement, ma mère et mon père étaient des adeptes de musique, surtout à travers leur église. Mon frère et moi avons grandi parmi les guitares, à chanter. Lorsqu'on était préadolescents, on faisait de la musique pour les messes et l'école du dimanche. Haha… Évidemment, on ne pouvait qu'écouter de la musique chrétienne, donc, on avait une collection secrète de cassettes de rock et de heavy metal qui éventuellement se faisait traquer et détruire. Je me souviens avoir été obligé de lire à voix haute les paroles d'une chanson de Guns and Roses afin de ressentir la honte. Assez drôle. Mais oui, à leur façon, mes parents ont toujours été un support.
Ça m'a pris du temps avant de vraiment apprendre quelque chose sur la musique (j'apprend encore). J'ai grandi sans internet dans une petite ville. Mes influences étaient à l'époque ce que j'avais entendu par des amis, dans les magazines, le Radio Shack local et Much Music. J'ai regardé City Limits religieusement. Un moment fort pour moi, je me souviens, est de voir le vidéo de "Dirty Boots" de Sonic Youth. Également, un ami skateboarder plus âgé m'a laissé écouté la moitié d'une chanson de Dead Kennedys dans son walkman en-dehors de la Banque de Montréal, quand j'avais 12 ou 13 ans. Ça m'avait totalement stupéfié. Je n'avais jamais rien entendu comme ça. Plus vieux, j'ai commencé à acheter des cassettes de groupes locaux lors des rares voyages en ville. Celle que je chérissais le plus était Peter cassette de Eric's Trip. Je l'ai acheté lors d'un voyage organisé par l'église, à Moncton.
Des Haligoniens ont migré partout au Canada. Pourquoi es-tu resté à Halifax? Il y a quelque chose de spécial dans cette ville?
Je suis un peu un ermite et j'ai définitivement la Nouvelle-Écosse et la mer dans le sang. Je suis très heureux ici et je n'ai jamais considéré déménager. Si mon but était de jouer dans un groupe ou d'être socialement actif, je suppose que déménager serait une bonne option, mais d'ici, je peux vivre pour pas cher, avoir une compagnie de disque et un festival. Quoique maintenant je réside un peu en dehors de la ville, je me considère toujours comme Haligonien. Comme beaucoup d'adolescents artistiques qui grandissent dans de petites villes, je me suis senti comme un étranger durant mes années d'école secondaire et mes débuts de vie adulte. Déménager à Northend Halifax a totalement changé ma vie. C'était la première fois que je sentais que j'appartenais à quelque chose. Je crois que pour beaucoup de gens, Halifax représente le même refuge. Considérant sa petite superficie, Halifax est une ville très culturelle qui offre une opportunité aux artistes de travailler et d'être vus et entendus. Et naturellement, nous avons toujours eu une excellente scène musicale. Cette communauté est une importante partie de ma vie et je suis reconnaissant d'y avoir un petit rôle.
Parle-nous de Obey.
OBEY Convention a été créé en 2007 par Sandy Saunders (aka Torso) et moi-même. Je faisais des shows expérimentaux étranges dans un endroit nommé Salvation, à Halifax. À cette époque, DIVORCE avait sorti une compilation de groupes locaux expérimentaux et quelques disques de Torso. J'enregistrais moi-aussi et performais solo sous le nom de Shit Cook. L'alignement était parfait. Sandy était ami avec Bastard Noise de San Francisco. Ils ont décidé de venir alors on a bâti un festival autour de leur passage. Personne en ville n'offrait vraiment de place pour ce genre de musique punk expérimental alors on l'a fait.
Obey Convention n'adhère à aucun genre en particulier, à aucun son. Quelle est votre vision? Qu'aimez-vous?
Eh bien, mes critères sont assez larges, et je crois qu'il est important que les choses évoluent naturellement avec OBEY. On en parle souvent comme d'un festival de musique expérimentale mais j'essaie de ne pas trop le catégoriser ainsi. Je sais que les puristes roulent les yeux vers le ciel lorsqu'ils voient ce type de tag. Cependant, je crois que la saveur expérimentale est une caractéristique importante de notre programmation. Et je cherche des groupes et des artistes qui expérimentent d'une façon ou d'une autre, que ce soit un groupe comme Pissed Jeans qui pousse sa musique au-delà des restrictions du punk hardcore, ou un artiste comme Pete Swanson qui explore l'intersection entre le noise et le techno minimal. Je crois que tous nos artistes apportent quelque chose de neuf. Et l'action de rassembler tous ces genres et toutes ces idées pour une fin de semaine intimiste est vouée à perpétuer cette sorte d'exploration.
Le rôle de curateur, pour moi, est très organique. Je corresponds parfois avec des artistes durant des années, à propos de venir à Halifax. C'était le cas à propos de Corsano et de Pissed Jeans. Je chat aussi avec des amis de partout en Amérique du Nord qui sont à l'affut du milieu musical. Mes partenaires au festival et amis avisés m'aident dans ces décisions.
J'aime avoir quelqu'un, quelque part, qui sait où se déroulent les concerts de tous nos artistes, spécialement les têtes d'affiches. Et, évidemment, je dois adorer ce que j'entends et être vraiment excité de les voir jouer. Alors les choses prennent forme et ça décolle. Je n'ai jamais d'idée préconçue quant à la programmation en général d'une édition d'OBEY, au moment de son annonce. Il n'y a pas d'agenda. Les gens peuvent se plaindre qu'il n'y a pas assez de ci ou de ça, mais je n'y vais jamais avec un plan d'ensemble. J'essaie de laisser chaque édition prendre sa propre forme.
Dès que j'ai une idée brouillonne de l'alignement, ça devient un casse-tête dans mon esprit. Je ne dors généralement pas trop durant les semaines où j'essaie de programmer le festival et remplir les trous. C'est probablement la partie la plus douloureuse du processus. Puisque le festival est un enchainement d'évènements, il doit être construit comme un mouvement entier. Ça demande beaucoup de travail et de réflexion. Je peux dire que c'est fait lorsque je sens un relâchement et un soulagement psychologique.
Pour ce qui est de ce que j'aime, ça peut être n'importe quoi. Je ne suis pas intéressé à un son ou genre en particulier. J'essaie cependant de booker un virtuose au moins à chaque année. Cette année, c'est Chris Corsano. Je suis fasciné par l'idée d'un musicien qui consacre sa vie entière pour le perfectionnement d'un instrument. J'aime également les performances et études sonores intenses. Je m'attends à ce que Swanson nous offre exactement ça. Et bien sûr, le punk, sous une forme ou une autre, jouera toujours un rôle important dans notre festival. Je crois que l'éthique DIY et l'anti-mainstream des débuts du mouvement punk américain est réellement le point de départ de plusieurs genres que nous présentons.
Qui vous aide avec Obey Convention? Que font-ils?
C'est une longue liste. Matthew Samways d'Electric Voice est le directeur adjoint. Il aide à la programmation et coordonne tous les besoins des artistes au niveau logistique. Il est beaucoup plus organisé que moi et je ne pourrais pas le faire sans lui. Evan Cardwell a été avec le festival depuis les débuts. Il gère le son et autres besoins techniques pour chaque évènement. Durant la fin de semaine, il a le travail le plus intense. Evan aide également à la conception de la programmation et à la présentation. Je vais généralement le chercher quand je suis bloqué. Smith fait l'entièreté de notre graphisme. Je crois qu'il est essentiel que le visuel du festival soit davantage de l'art que du marketing. Le visuel qu'il apporte nous représente parfaitement. Kat Shubaly est une autre de nos personnes super organisées. Elle s'occupe de la vente des billets et autre durant le festival. Meg Yoshida s'occupe de l'infographie et met sur pied le guide du festival. Andrew Patterson est l'un de nos auteurs et homme à tout faire. La liste continue, et nous avons un extraordinaire conseil d'administration qui nous soutien – Nancy Urich, Natalie Slater, Matt Charlton, Dan Joyce, and Derrick Hiltz.
Lorsque nous étions à Obey, nous avons été témoins d'un support incroyable de la part de la communauté artistique de Halifax. Quelle sorte de relation a Obey avec la communauté? Est-ce qu'elle grandit? Où se dirige-t-elle?
Comme je l'ai mentionné, Halifax est un endroit spécial. La communauté artistique y est vraiment accueillante et d'un grand soutien. Je me sens parfois comme un enfant, demandant sans cesse des conseils et de l'aide à des personnes plus expérimentées. Le festival grandit et ça ne pourrait arriver sans ces conseils et ce support. Je me sens privilégié de faire partie de tout ça. Si vous regardez qui sont nos sponsors, vous verrez la quantité de gens qui s'investissent dans le projet. C'est remarquable, pour moi, spécialement en considérant la nature obscure de certaines de nos présentations.
Et oui, nous ressentons un sentiment d'amour de la part des participants et artistes. Ça n'a pas toujours été facile de monter tout ça. Quand ça devient un vrai combat, ce sont tous les gens qui ont hâte au festival et offrent leur soutient qui nous gardent sur la bonne voie.
Je suis motivé à faire grandir OBEY Convention, certainement. En voyant la quantité de passes vendues et de shows sold out, il est devenu évident que nous avions, en quelque sorte, dépassé la capacité des salles dans lesquelles nous présentions et que nous devions trouver des manière d'accommoder plus de gens. C'est excitant mais c'est aussi un défi. C'est ce sentiment de communauté et d'intimité qui est si important pour OBEY. Je pourrais voir tout ça être perdu si nous grandissions dans la mauvaise direction. Nous allons tous nous rassembler cet été et tenter de trouver une bonne manière d'évoluer. Nous avons quelques idées.
Parle-nous de ton moment Obey le plus difficile.
Il y a eu beaucoup de moments difficiles, spécialement lors de la planification. Ça peut être vraiment ardu à plusieurs niveaux. Lors d'un évènement, quelqu'un a fracassé une énorme fenêtre dans une des salles de spectacles. C'était une situation bizarre qui nous a couté beaucoup d'argent que nous n'avions pas. C'était une gifle à la fois émotionnelle et monétaire après les quelques mois de travail acharné.
Et le moment Obey qui fait que ça en vaut la peine.
La réparation de cette même fenêtre dans les 24 heures après l'incident, grâce aux dons du public et de personnes provenant de partout au pays est un moment clé pour OBEY. Haha… C'était vraiment incroyable pour moi de voir ce qui se produisait. Je suis certain que cette expérience a à voir avec pourquoi OBEY existe encore aujourd'hui. Ce sentiment de soutien est vraiment resté avec moi.
Mise à part ça, il y a juste eu tellement de performances exceptionnelles au fil des années. Je ne peux même pas commencer à les énumérer. Je ressentirais un vrai manque si je n'avais pas, à chaque printemps, hâte de voir ces spectacles.
Rapidement, 5 questions
Meilleur album à vie: Alice Coltrane – Journey in Satchidananda
Meilleur moment lors d'un spectacle: hmm… les points forts récents – Bastard Noise – OBEY I, Michael Hurley – Sappy 7, Pierre Bastion – OBEY IV, Merzbow – Reflux, Eric Copeland – OBEY – 5, Dirty Beaches – OBEY 4, Grouper – St. David's, Willie Nelson – Metro Centre, Colin Stetson au Halifax Jazz Fest et ça continue…. Je ne pourrais jamais en choisir un, et ma mémoire ne recule pas si loin!
Meilleurs endroits à Halifax: The Khyber, Java Blend, Point Pleasant Park, Barrington St, Fuller Terrace
Meilleur endroit de surf: Si je le dis, je suis barré de la côte est.
Être humain favori: Aaron Levin
---
---
---