New Canadiana :: Slam Dunk – Welcome to Miami
---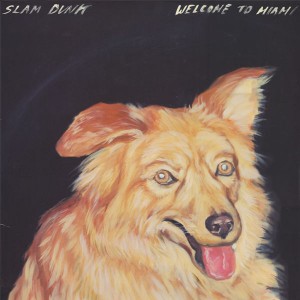 Slam Dunk
Welcome to Miami
Victoria, BC
From the score sheet of Johnnie Regalado:
You'll find one in every town. That rock and roll workhorse that plays so goddamn hard you want to keep it a secret. That band you never want to stop or leave. In Victoria, that band is called Slam Dunk. On their sophomore album Welcome to Miami, Slam Dunk deliver rollicking pop songs about the shortage of scabies cream in pharmacies, their good friends' very average grades, and just about every other demented whim they've ever had a good laugh over. This album is a compilation of all those beautiful things that crowds of sweaty drunks are ready to pump their fists to. Strip away the silliness and you're left with a tight and technical perfection of pop rock that's sure to leave you with a sore neck from excessive thrashing. This album isn't just a two-pointer. It's an all-out, 360, through the legs NBA jam of unprecedented awesomeness.
De la feuille de pointage de Johnnie Regalado:
(Traduit par le culte rodmanien de Nicolas Coutlée)
Il y en a un dans chaque ville. Ce cheval de trait du rock'n'roll qui bûche tellement fuckin' fort que vous aimeriez garder le secret juste pour vous; ce groupe que vous souhaiteriez ne jamais voir arrêter ou disparaître. À Victoria, il s'appelle Slam Dunk. Sur leur deuxième album intitulé Welcome to Miami, Slam Dunk parle dans ses chansons pop-noise de pénuries de crème contre les morpions, des notes plus que moyennes de leurs bons amis et d'à peu près n'importe quelle connerie démente dont ils ont pu rire un jour. Il s'agit d'une compilation de toutes ces belles choses qui font brandir le poing des foules d'ivrognes en sueur. Mais enlevez les pitreries, et vous vous retrouverez avec un petit joyau de pop-rock technique bien taillé sûr de vous donner le torticolis à force de trop mosher. Cet album n'est pas qu'un simple deux-points. C'est un 360 complet de pur brio entre les jambes.
---
---
---