New Canadiana :: Rakam – Stranger Things Before
---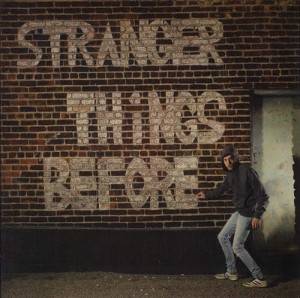 Rakam
Stranger Things Before
(Self Released)
Montreal, QC
From the precipitated groove of Jessie Stephenson:
Channeling the spirit of disco, funk and library music, Rakam conjures visions of nocturnal metropoles splashed with neon pink, gold and green. Stranger Things Before makes 14 offerings of back-alley side-stepping and finger-snapping melodies that haunt brains and headphones. Synths make passage from the realm of the smooth to the crispy, carried by portly bass expressions. Peppered throughout by direct communications with the organic, the occasional innocent guitar peeks out, if only to hide upon arrival of the precipitating groove. A veritable spectre of Montrealean cool.
Du groove précipité de Jessie Stephenson:
(Traduit par la poudre d'escampette de Nicolas Coutlée)
Puisant à même l'esprit du disco, du funk et de la « library music », Rakam convoque des visions de métropoles nocturnes éclaboussées de néons roses, dorés et verts. Stranger Things Before présente 14 offrandes de mélodies de voyous de ruelles et de claquements de doigts qui hantent les cerveaux et les casques d'écoute. Les synthés passent du royaume du langoureux au croustillant, portés par de généreuses courbes de basse. Pimentée d'un bout à l'autre par ses liens directs avec l'organique, la musique laisse poindre à l'occasion une guitare innocente, seulement pour se terrer de nouveau à l'arrivée du groove précipité. Un véritable spectre du cool montréalais.
---
---
---