Cameo :: David Lander on Monsterbator – The Infinity House EP
---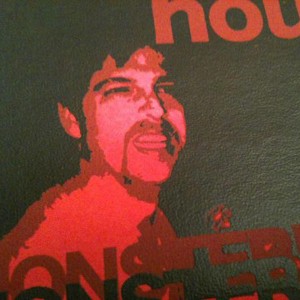 Monsterbator
The Infinity House EP
(Self Released)
St. John's, NL
From the rowche rock rumble of David Lander:
A few years back, rumblings began to surface around St. John's of a talented, loud band with a name that was simultaneously the best and worst in the city. A band that never went on stage before 2 a.m. and, when they finally did, had a puke bucket ready in the corner. While they had a following, they were largely an enigma. As more people began to see what the aforementioned rumblings were about, it quickly became apparent – Monsterbator were one of the most powerful bands on the Rock, and their live show (somehow) only seemed to get better each time they stepped on stage.
Falling somewhere between Scratch Acid, the Jesus Lizard and the Soupcans, The Infinity House is the band's second offering. Although it's only four songs, they manage to pack it with deep grooves, infectious guitar lines (the crunch of "Bad Taste" will be stuck in your head for days), time shifts you don't realize until you're trapped in them, and straight up energy. Giving a glimpse of Monsterbator's live power, this EP is a great introduction to a band that many Newfoundlanders hold so dear, but also leaves an undeniable feeling that their next record is going to destroy you.
David Lander is a guy who was born in Kingston and, somehow along the way, ended up in St. John's, Newfoundland. Mathias Kom and Ariel Sharratt also found themselves in St. John's and, in 2010, they co-founded an independent music and arts festival called Lawnya Vawnya.
Du cri de rocker enroué de David Lander:
(Traduit du cri parti des tripes de Dominic Mpilé)
Il y a quelques années dans le coin de St John's, on a commencé à entendre parler d'un groupe bruyant et plein de talent, arborant simultanément le meilleur et le pire nom en ville. Un groupe qui ne se produisait jamais avant 2 h du matin et, lorsqu'il se décidait, plaçait dans un coin un seau pour gerber. Quoique célèbre, la bande demeurait une énigme. Or au fur et à mesure que la rumeur se répandait et se concrétisait, une chose devint rapidement apparente : Monsterbator était l'un des groupes les plus puissants de la province-roc et ses prestations gagnaient (d'une façon ou d'une autre) en qualité à chaque spectacle.
Quelque part entre Scratch Acid, the Jesus Lizard et the Soupcans, The Infinity House est le deuxième opus du groupe. Bien que l'album ne compte que quatre chansons, la formation parvient néanmoins à le bourrer de grooves intenses, de lignes de guitares accrocheuses (la déflagration sonore qu'est « Bad Taste » vous restera en tête des jours), de changements de mesure dont on ne s'aperçoit qu'une fois pris au piège et de pure énergie. Donnant un bref aperçu de la puissance de Monsterbator en concert, ce EP constitue une excellente introduction à ce groupe que beaucoup de Terre-neuviens portent dans leur cœur, mais laisse aussi l'impression indéniable que leur prochain disque vous annihilera.
David Lander est un gars né à Kingston qui, plus tard par la force des choses, échoue à St. John's sur l'île de Terre-Neuve. Mathias Kom et Ariel Sharratt se sont aussi retrouvés à St. John's et, en 2010, ils ont fondé ensemble un festival de musique et d'arts indépendants appelé Lawnya Vawnya.
Monsterbator – The Infinity House
---
---
---