New Canadiana :: Yellowteeth – Repo
---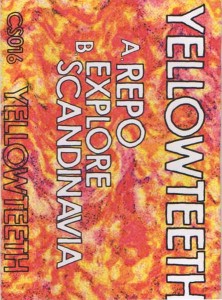 Yellowteeth
Repo
Sackville, NB
From the (mostly) cavity-free mouth of Josh Cwintal:
This Sackville band is all too happy to thrust us into their messy playground. Meaty guitars nudge and prod with a pulsing chug. Crowd-riling vocals melt into compelling chants of what we imagine is someone desperately trying to convince us of their mental vigour. We believe them, for the moment. Strummed sirens bring uneasiness and warn of an imminent ascent. A steady march towards the top of a sludgy mountain of churning guitars and vocal howls. The view below may look chaotic but the grooves and grip are quite tidy. It's hard not to grin.
De la bouche presque sans caries de Josh Cwintal:
(Traduit par la fraise fébrile de Nicolas Coutlée)
Ce groupe de Sackville est beaucoup trop joyeux pour nous pousser dans son terrain de jeu en désordre. Bourrade et bine de guitares charnues rythmées d'une sourde pétarade. La voix à vous en faire dresser le poil de bras se mélange avec d'irrésistibles envolées qui semblent désespérément tenter de nous convaincre de leur vigueur mentale. On les croit, pour le moment. Au son des sirènes incertaines vous vous agitez, elles vous alertent d'une montée imminente. Une ascension d'un pas régulier jusqu'au sommet d'une montagne vaseuse de guitares cinglantes et de hurlements. La scène en bas peut paraître chaotique, mais les grooves et l'aplomb eux sont plutôt précis. Difficile de réfréner un sourire.
Yellowteeth – Explore Scandinavia
---
---
---