Ex Libris :: The North Yorker [Alain Mercieca]
---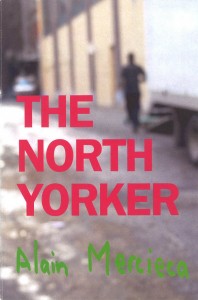 The North Yorker
Written By: Alain Mercieca
[86pp. perfect bound]
Montreal, QC
From the underground notes of Jordan Voith:
These are bizarro world visions: TVs with assholes, post-apocalyptic condo developments, spoon manufacturers who refuse to make forks. Somehow, miraculously, Mercieca makes them resonate. Staring at a cement block, the narrator reflects that "whorehouses should change their names to Energy Exchange Bureaus or Hormonal Release Societies", a foreign thought perhaps, but not an entirely unrelatable one; city dwellers spend a lot of time staring at concrete. The North Yorker is about intentional weirdness, quiet confusion vs. screaming boredom, and the perils of unchecked introspection. Spend too much time inside yourself and everything gets strange.
Des carnets souterrains de Jordan Voith:
(Transmuté par Vincent Rondeau)
Voilà des scènes dignes du monde de Bizarro : des télévisions avec des anus, des condos post-apocalyptiques, des fabricants de cuillères qui refusent de faire des fourchettes… mais comme par miracle, Mercieca les fait résonner. En regardant un bloc de ciment, le narrateur pense que « les bordels devraient être rebaptisés "bureaux d'échange de l'énergie" ou "sociétés de libération des hormones" », pensée certes inhabituelle, mais à laquelle on peut tout de même s'identifier : après tout, les citadins passent beaucoup de temps à regarder le béton. The North Yorker parle de bizarrerie délibérée, de confusion silencieuse et d'ennui criant, et des dangers de l'introspection excessive. Quand on passe trop de temps à l'intérieur de soi-même, tout devient étrange.
---
---
---