Cameo :: Max Mohenu on Happy Trendy – January 6
---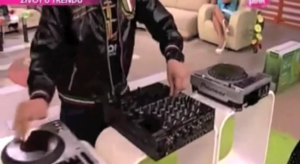 Happy Trendy
January 6
[Director: Dylan Khotin-Foote]
Edmonton, AB
From the star sign of Max Mohenu:
Happy Trendy is the moniker of Edmonton musician Dylan Khotin-Foote. This musical adventure came to an end last year, but he's still making art and providing the laughs with loljiji. In memory of one of his most divine tracks, "January 6", Happy Trendy released a "rare official video" on the titular date. The lush beats and serene harmonies couldn't be a better fit for this amazing found footage. Not sure if this is some European talk show or what, but much like this incredible tune, the video is something to be remembered. Although the Happy Trendy chapter is finished, let's hope we can celebrate the beauty of January 6 every year, all year round.
Max Mohenu is the founder of Diamond Atlas, and a contributor at Portals. He is currently working on his first zine and the relaunch of Diamond Atlas, which will feature new contributors Mystic Groove and Suburban Tours.
Du signe astrologique de Max Mohenu:
(Traduit par la courte échelle de Alex Vail et Nicolas Coutlée)
Happy Trendy est le pseudonyme du musicien d'Edmonton Dylan Khotin-Foote. Son aventure musicale a pris fin l'an passé, mais il œuvre toujours en arts et continue de faire rire avec loljiji. En mémoire de « January 6, l'un de ses plus divins morceaux, Happy Trendy a fait paraître un « rare vidéo officiel » à la date éponyme. Les rythmes lascifs et les harmonies sereines ne pourraient s'agencer mieux qu'avec ces merveilleuses images trouvées par hasard. Pas sûr si c'est une sorte de talk-show européen ou quoi, mais comme cette incroyable chanson, le vidéo est à garder en mémoire. Même si Happy Trendy est histoire du passé, espérons pouvoir célébrer la beauté du 6 janvier chaque année, toute l'année.
Max Mohenu est le fondateur de Diamond Atlas et un collaborateur pour Portals. Il travaille présentement sur son premier zine et sur le retour de Diamond Atlas, qui mettra en vedette les nouvelles contributions de Mystic Groove et Suburban Tours.
---
---
---