New Canadiana :: Les momies de Palerme – Les momies dans les pins
---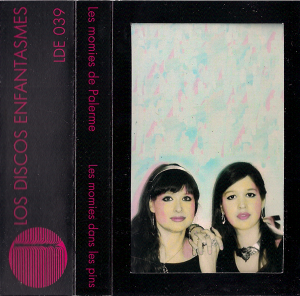 Les momies de Palerme
Les momies dans les pins
Montreal, QC
From the lifted veil of Hugo Hyart:
Mummies in the pines, in the pines, in the pines, pines, pines, pines. The first time I ever heard les momies was the La Loge de Sel video by Jasper Baydala, and it really moved me. Far away. Here are out-takes recorded at the Pines during the same sessions as their last album: Brûlez ce Cœur. A collection of studio exercises perhaps? Out-takes often give me a feeling of strangeness; rejects, orphans, lost. That's not necessarily a problem, especially for this cassette, a beautiful collection of sonic impressions from another face, cavernous in some places, of the brain. It is good to allow ourselves such rambles sometimes. This small odyssey is out on Los Discos Enfantasmes, the Montreal label counting the great Bernardino Femminielli among its staff. It proposes other similar amusements. Also to be noted is the movie Je suis dans un Band, starring Xarah, one of the mummies, which should come out this year.
Du voile relevé de Hugo Hyart:
(Traduit par Nicolas Coutlée & Hugo Hyart)
Des momies dans les pins, dans les pins, dans les pins, pins, pins, pins. La première fois que j'ai entendu Les Momies, c'était sur cette vidéo de Jasper Baydala pour « La Loge de Sel » et ça m'avait vraiment transporté. Ici, nous avons des outtakes enregistrées aux Pines lors des sessions de Brûlez ce Cœur, leur dernier album. Une collection d'exercices en studio peut-être? Les outtakes m'emplissent souvent d'un sentiment d'étrangeté, elles m'apparaissent souvent comme rejetées, orphelines, perdues. Ce qui n'est pas forcément un problème, surtout pour cette cassette, recueil d'impressions sonores d'une autre face, caverneuse par endroits, du cerveau. Petite odyssée parue sur le label montréalais Los Discos Enfantasmes, qui propose d'autres amusements similaires, et dont l'un des fondateurs est le grand Bernardino Femminielli. À noter aussi la sortie du doc Je suis dans un Band auquel participe notamment Xarah, une des Momies, attendu dans l'année si j'ai bien compris.
Les momies de Palerme – Infirmiere
Les momies de Palerme – Ishtar Barbata
---
---
---