New Canadiana :: Zebra Pulse – Endings
---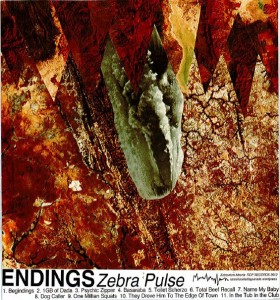 Zebra Pulse
Endings
Edmonton, AB
From the blown Rockfords of Jared Majeski:
Zebra Pulse (ZP) is Parker Thiessen, Owen Strasky and Dave Schaefer — three small-town technotricians, who for the past five years have schlepped around Western Canada hawking music that's more art and science; harshly beautiful and intriguing. Left, right, up and down the EQ meter they go, leaving one of two schools behind: the confused or the converted. Right now, the noise "scene" in Edmonton has grown mightily thanks in-part to ZP, including a ramshackle record label, monthly noise showcase and a cadre of talented multimedia creators. ZP has accomplished in a short few years what many other musicians dream of: wearing diapers and blimp suits on stage, smashing through glass tables in Lethbridge, and embarking on their own no-lympic tour happening at the same time as the actual Olympics. But on their latest release Endings, ZP have outdone themselves. The trio is now a quartet, and features an acoustic musician for the first time: former Outdoor Miners savant percussionist Sean Macintosh. With warbled cassette abstracts, homemade noisemakers, an ever-growing collection of electronics and layers upon layers of sampled vinyl, this may be the group's most "accessible" record to date. ZP has pushed — and will likely continue to push — the boundaries of what one considers "music" this side of the Medicine Line. Cover art by Brandi Strauss.
Des amplis pétés de Jared Majeski:
Zebra Pulse est constitué de Parker Thiessen, Owen Strasky et Dave Schaefer, trois technotriciens originaires de petites villes, qui parcourent l'Ouest du Canada depuis cinq ans pour promouvoir leur musique aussi artistique que scientifique, d'une beauté étrange et rude, qui ne laisse personne indifférent :à l'issue de leurs bidouillages effrénés, on est soit confus ou converti. La scène noise d'Edmonton a beaucoup grandi grâce à eux, accueillant maintenant une maison de disques « délabrée », une série de concerts mensuels et un noyau de créateurs multimédia talentueux. Les membres de Zebra Pulse ont accompli en quelques années ce dont beaucoup d'autres rêvent : concerts en couches pour bébé et costumes de ballons dirigeables, destruction de tables en verre à Lethbridge, et même leur propre tournée « no-lympique » en même temps que les Jeux olympiques. Et pourtant, ils se surpassent encore sur ce nouvel album, Endings. Le trio est désormais quatuor suite à l'intégration de leur premier musicien acoustique, l'ancien percussioniste savant des Outdoor Miners, Sean Macintosh. C'est peut-être leur album le plus accessible à date, rassemblant des sonorités de cassettes chevrotantes, des machines à bruit bricolées maison, de plus en plus de sons électroniques et des échantillons de vinyles superposés. ZP repoussent de nouveau les limites de ce que l'on appelle de la musique au nord du 49e parallèle… et ils ne sont pas près d'arrêter. Pochette de l'album par Brandi Strauss.
Zebra Pulse – Total Beef Recall
---
---
---