New Canadiana :: Fletcher Pratt – Dub Sessions Vol. 2
---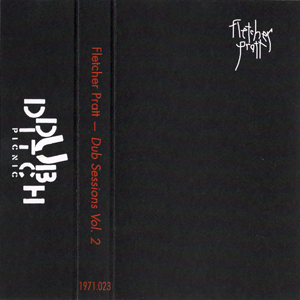 Fletcher Pratt
Dub Sessions Vol. 2
Winnipeg, MB
From the smoking chalice of Christopher Laramee:
Eschewing the murk and screwed stylings of his previous offering, Winnipeg's Fletcher Pratt spitshines a wonderful sheen on his second volume of excursions into inner space. "Huge Dub" starts the journey in a mid-80s Mad Professor style, were he scoring a John Carpenter flick about the Miami cocaine wars. Digi-warmth for miles on this tape, all wrapped up with Mr. Pratt's tightest arrangements to date. A stalking urban vibe staggers through quite a few of these tracks, broken up beautifully by the beatific piano stabs of side two's "Sunny Dub", a real dolphin watcher if there ever was one. "Odd Dub"'s warped keyboard textures and sub-bass wonk along heat-stricken before the alone-in-an-airport "Outro" drops you off at the side of the road, stranded and searching for your car keys. All you can find in your pockets is some dusted roaches and a strange phone number written on a Burger King receipt. Time to go home and sleep it off, brother.
Du calice chauffé de Christopher Laramee: (Traduit par Maya Keshav)
En évitant l'obscurité et le style foutu de sa dernière création, Fletcher Pratt de Winnipeg lustre merveilleusement son deuxième volume d'excursions dans l'espace intérieur. "Huge Dub" commence le voyage avec un ton à la Mad Professor des années 80, s'il composait la bande-son d'un film de John Carpenter à propos des guerres de la cocaïne à Miami. C'est la numéri-chaleur à travers les miles de cette cassette, tout emballé dans les arrangements les plus sensass de M. Pratt jusqu'à maintenant. Des ondes urbaines rôdeuses chancellent à travers nombreux morceaux, fragmenté merveilleusement par les éclats béats de piano de "Sunny Dub" à la face B, un vrai observateur des dauphins, s'il y en a jamais eu. Les textures déformés de clavier et la Sub-basse balançent, foudroyés de chaleur jusqu'à ce que l'"Outro" seul-dans-un-aéroport te laisse à côté de la rue, abandonné, en train de chercher pour tes clés de voiture. Tout ce que tu peux trouver dans tes poches, c'est quelques cafards poussiéreux et un numéro de téléphone que tu ne connais pas écrit sur un reçu de Burger King. Il est temps de retourner chez toi et cuver, mon ami.
---
---
---