New Canadiana :: Fleshtone Aura – On Rusticated Slant
---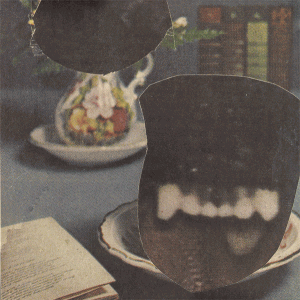 Fleshtone Aura
On Rusticated Slant
Toronto, ON

Remembering the often forgotten playfulness of early Musique Concrete, Fleshtone Aura liberates his sounds from the
Dementor-like
wraith of musical
academia
/ boredom, as sounds of scrapes and buzzes jocularly rub shoulders with old soundtrack splinters and various cheeky ejaculations.
On Rusticated Slant
presents the blurred landscape of a clever but potentially unhinged mind, as viewed through the window of a high-speed
train
. Fragments of ideas speed by relentlessly, erupting and retreating with some unknown and disturbingly consistent self-contained logic inside a damaged aural kaleidoscope. Many times one will be lured into the dense succession of microsound, only to have it explode like a novelty-gag can of snakes. This beguiling record is a meditation on damage, rewarding decompression through close listening.
[audio:http://weirdcanada.com/binary/Weird-Canada-Fleshtone_Aura-Side-1.mp3|titles=Fleshtone Aura – Side 1 (excerpt)] Fleshtone Aura – Side 1 [excerpt]
---
---
---