Ex Libris :: The Lease [Mathew Henderson]
---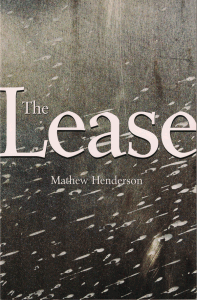 The Lease
Written by: Mathew Henderson
[72pp. Perfect Bound]
Toronto, ON
From the alien landscape of James Lindsay:
The voice of Mathew Henderson's The Lease is one of the thousands of young people who head to the Alberta oil fields in search of work, finding only endless labour, condensed male sexuality and constant physical pain. This is an alien landscape lit by the gas flare of the oil rigs where "you are the only thing with feet and hands / on a flat dying moon."
An Edward Hopper painting if he painted the rigs, these tight, narrative-driven poems are reminiscent of the traveler's estrangement felt in Antony Di Nardo's Alien, Correspondent and the overheard-dialouge-while-working-your-ass-off accessibility of Michael Turner's Company Town. And like those collections, it focuses on the day-to-day. The only thing that breaks up the apathy is when, for a moment, we turn away from the work and notice our surroundings: prairies as wide as the sky, cows grazing at night, "palm-sized moths", and the terrible cold letting us know we don't belong here this time of year. Nature reminds us that we are only barely tolerated.
Du paysage extraterrestre de James Lindsay: (Traduit par Odile Leclerc)
La voix de The Lease de Mathew Henderson est l'une des milliers de jeune gens qui se dirige vers les champs pétroliers d'Alberta à la recherche de travail, trouvant seulement du labeur interminable, de la sexualité mâle condensée et une douleur physique constante. C'est un paysage extraterrestre éclairé par les flammes de gaz des plates-formes de pétrole où ''vous êtes la seule chose avec des pieds et des mains / sur une lune plate mourante.''
Une peinture d'Edward Hopper s'il peignait les plates-formes, ces poèmes, serrés, menés en narration sont réminiscent de l'éloignement de voyageur ressentit dans Alien, Correspondent de Antony Di Nardo et le ''dialogue entendu par hasard pendant que tu travail comme une bête de l'accessibilité de Company Town de Michael Turner. Et comme ces collections, elle se concentre sur le jour-à-jour. La seule chose qui brise l'apathie c'est quand, pour un moment, nous nous détournons de l'œuvre et remarquons ce qui nous entoure : des prairies aussi vaste que le ciel, des vaches broutant durant la nuit, ''des mouches de la grosseur d'une paume'', et le terrible froid nous laissant savoir que nous ne devrions pas être ici à ce temps de l'année. La nature nous rappelle que nous sommes à peine tolérés.
---
---
---