New Canadiana :: The Royal Iguana Fur – Bright White Coat Hanger
---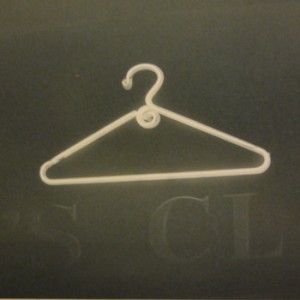 The Royal Iguana Fur
Bright White Coat Hanger
(Self Released)
Grand Prairie, AB

Somewhere in an unassuming Grande Prairie bedroom, Alex Linfield is seated in a
fort
made of vinyl. He invites you inside, closing the door behind him, and launches a searing side-glance into the rock 'n' roll
canon
. There is something voyeuristic about being there to watch this bedroom dancer, with his headphones still on, plowing through damaged covers and uncouth originals; it's as entertaining as a scurrilous rumor or indiscreet disclosure. This one-man psychogenic wrecking crew slams the door in the world's face, and you are the only person allowed to be there with him.
Bright White Coat Hanger
sits on the same side of a
topological barrier
that you haven't even been able to see since you were a surly teenager.
[audio:http://weirdcanada.com/wp-content/uploads/2012/09/The-Royal-Iguana-Fur-Bright-White-Coat-Hanger-02-Stifle.mp3|titles=The Royal Iguana Fur – Stifle] The Royal Iguana Fur – Stifle
[audio:http://weirdcanada.com/wp-content/uploads/2012/09/The-Royal-Iguana-Fur-Bright-White-Coat-Hanger-08-Cesspool.mp3|titles=The Royal Iguana Fur – Cesspool] The Royal Iguana Fur – Cesspool
[audio:http://weirdcanada.com/binary/Weird_Canada-The_Royal_Iguana_Fur-Louie_Louie.mp3|titles=The Royal Iguana – Louie Louie] The Royal Iguana Fur – Louie Louie
---
---
---