New Canadiana :: Sam Shalabi – Osama
---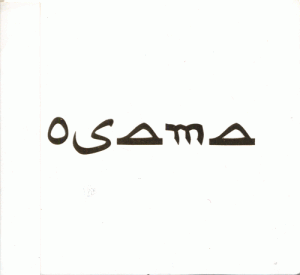 Sam Shalabi
Osama
Montreal, QC
Originally Released: 2003

Remember about ten years ago when taking risks wasn't so rare as to constitute an event like it is now?
(1)
Welcome to 2003, and here's Sam Shalabi and his erstwhile record label Alien8 taking a huge risk on strange music. Thank Cheeerist! We kind of lost that facility in Montreal at some point in the last few years. Maybe it's the landscape of Modo furniture showrooms.
All contained within Osama: Bursts of chiming FM synth over guitar sprawl, tap dancing, percussion overdubs, odd spoken sections, sounds of bawling and whipping intercut with Sam in discussion with Leila Pourtavaf (2), blundering chug rock, a juxtaposed pastiche editing style, gorgeous vocal arrangements, Walter Benjamin quotes and a general head-scratcher of an approach. Anyone remember The Donkeys? (3)
The album's title comes from Sam Shalabi's given first name. Immediately post-9/11 Sam and the million other Osamas in the world found themselves sharing a name with a spectral presence invested with unspeakable evil, watching itself on TV.
In a statement on the Alien8 website, Sam says that Osama fails as a protest record about Arabophobia, and thank heavens for that; protest records as a genre tend to reek. There's a minor RIO (4) vibe but I'd almost say Osama comes closer to the Temptations' Sky's The Limit (5) or, even further along, Metallica and Lou's brilliant Lulu. Hell, there's even the Mayor of Mile End Billy Mavreas (6) doing his best Doggerel Bank "Skillicorn Dances" (7) impersonation.
Anyhoots, if it were up to me they'd give this record the Polaris prize every year and one to Alien8 for straight trucking as well.
Oh, and "Do you have a mandate?"
Get it here: http://www.alien8recordings.com/releases/osama
[audio:http://weirdcanada.com/binary/Weird_Canada-Sam_Shalabi-Shitmobile_USA.mp3|titles=Sam Shalabi – Shitmobil, U.S.A. (Adam Frank and Sam Shalabi)] Sam Shalabi – Shitmobile, U.S.A. (Adam Frank and Sam Shalabi)
[audio:http://weirdcanada.com/binary/Weird_Canada-Sam_Shalabi-The_Wherewithalll.mp3|titles=Sam Shalabi – The Wherewithalll] Sam Shalabi – The Wherewithalll
(1)
Ahhh artists and their fragile little selves. Once a practice is really set, the artists become hidebound and risk-averse, and as such maintain a status quo almost inevitably. As a type, "artists" are generally conservative. Give me a break.
(2) Formerly Montreal based activist and academic.
(3) Blundering steamroller rock quartet from Montreal. If I'm not mistaken they did release a record at some point in the early oughts.
(4) RIO stands for Rock in Opposition, a European music scene sprung up in the late '70s whose riotously fun project was to mix dialectical materialism and chamber-prog. Henry Cow's Legend is the go-to joint in this regard.
(5) The gorgeous 1972 album featuring the overtly heavy and political "Smiling Faces" among others. Pretty much immaculately made mainstream music via Berry Gordy and the crew and of course featuring our man "Detroit" Coffee in full buzzin' axe effect.
(6) Comic artist, shop owner, gallerist. He walks along St. Viateur and old ladies come running on out into the street to give him pieces of perfectly ripened fruit like he was some kind of Greek Corleone.
(7) The Doggerel Bank was a British "psychedelic funny" band. The Skillicorn Dances lp on The Famous Charisma Label isn't impossible to find in a cheap-0 bin.
---
---
---