New Canadiana :: Sam Shalabi – Osama
---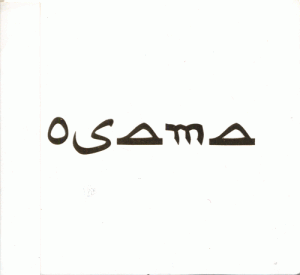 Sam Shalabi
Osama
Montreal, QC
From the spectral presence of Alexander Moskos:
Remember about ten years ago when taking risks wasn't so rare as to constitute an event like it is now? (1) Welcome to 2003, and here's Sam Shalabi and his erstwhile record label Alien8 taking a huge risk on strange music. Thank Cheeerist! We kind of lost that facility in Montreal at some point in the last few years. Maybe it's the landscape of Modo furniture showrooms.
All contained within Osama: Bursts of chiming FM synth over guitar sprawl, tap dancing, percussion overdubs, odd spoken sections, sounds of bawling and whipping intercut with Sam in discussion with Leila Pourtavaf (2), blundering chug rock, a juxtaposed pastiche editing style, gorgeous vocal arrangements, Walter Benjamin quotes and a general head-scratcher of an approach. Anyone remember The Donkeys? (3)
The album's title comes from Sam Shalabi's given first name. Immediately post-9/11 Sam and the million other Osamas in the world found themselves sharing a name with a spectral presence invested with unspeakable evil, watching itself on TV.
In a statement on the Alien8 website, Sam says that Osama fails as a protest record about Arabophobia, and thank heavens for that; protest records as a genre tend to reek. There's a minor RIO (4) vibe but I'd almost say Osama comes closer to the Temptations' Sky's The Limit (5) or, even further along, Metallica and Lou's brilliant Lulu. Hell, there's even the Mayor of Mile End Billy Mavreas (6) doing his best Doggerel Bank "Skillicorn Dances" (7) impersonation.
Anyhoots, if it were up to me they'd give this record the Polaris prize every year and one to Alien8 for straight trucking as well.
Oh, and "Do you have a mandate?"
Get it here: http://www.alien8recordings.com/releases/osama
Sam Shalabi – Shitmobil, U.S.A. (Adam Frank and Sam Shalabi)
Sam Shalabi – The Wherewithalll
(1) Ahhh artists and their fragile little selves. Once a practice is really set, the artists become hidebound and risk-averse, and as such maintain a status quo almost inevitably. As a type, "artists" are generally conservative. Give me a break.
(2) Formerly Montreal based activist and academic.
(3) Blundering steamroller rock quartet from Montreal. If I'm not mistaken they did release a record at some point in the early oughts.
(4) RIO stands for Rock in Opposition, a European music scene sprung up in the late '70s whose riotously fun project was to mix dialectical materialism and chamber-prog. Henry Cow's Legend is the go-to joint in this regard.
(5) The gorgeous 1972 album featuring the overtly heavy and political "Smiling Faces" among others. Pretty much immaculately made mainstream music via Berry Gordy and the crew and of course featuring our man "Detroit" Coffee in full buzzin' axe effect.
(6) Comic artist, shop owner, gallerist. He walks along St. Viateur and old ladies come running on out into the street to give him pieces of perfectly ripened fruit like he was some kind of Greek Corleone.
(7) The Doggerel Bank was a British "psychedelic funny" band. The Skillicorn Dances lp on The Famous Charisma Label isn't impossible to find in a cheap-0 bin.
De la présence spectrale d'Alexander Moskos: (Traduit par le prénom de Maya Keshav)
Tu te souviens il y a une dizaine d'ans quand la prise de risque n'était pas assez rare pour constituer un événement, comme elle l'est maintenant? (1) Bienvenue à 2003, et voici Sam Shalabi et son étiquette de jadi Alien8 qui prennent un énorme risque avec la musique bizarre. Merci, Cheeerist! On a perdu cet établissement je ne sais quand exactement, il y a quelques ans. Peut-être que c'est maintenant le paysage de salles d'exposition pour les meubles Modo. Osama comprend tout ça: Les éclats de synthé FM carillonnant sur l'étendue de guitare, les claquettes, les overdubs de percussions, les parties parlées bizarres, les sons du braillement et du fouettage entrecoupés de Sam discutant avec Leila Pourtavaf (2), le chug rock maladroit, un style de révision de pastiche juxtaposé, les beaux arrangements du chant, les citations de Walter Benjamin, et une approche assez déconcertant. Quelqu'un se souvient de The Donkeys? (3) Le titre de l'album vient du prénom original de Sam Shalabi. Immédiatement après 9/11 Sam et les millions autres Osamas du monde se sont retrouvés partageant un nom avec une présence spectrale à laquelle on a conféré un mal atroce, qui se regardait à la télé. Dans une déclaration sur le site-web d'Alien8, Sam dit qu'Osama ne réussit pas à être un album de protestation, et dieu merci pour ça; les albums de protestations en tant que genre a tendance à puer. Il y a de petites ondes de RIO (4) mais je dirais qu'Osama s'approche plutôt à Sky's The Limit (5) de Temptations, ou, même plus loin, le Lulu brillant de Metallica et Lou. Merde, il y a même le maire de Mile End Billy Mavreas (6) qui fait sa meilleure reprise de "Skillicorn Dances" (7) de Doggerel Bank. Bref, si c'était ma décision, ils donneraient un prix Polaris à cet album chaque année et un autre à Alien8 en plus. Oh, et "Vous avez un mandat?" Achetez-le ici: http://www.alien8recordings.com/releases/osama
Sam Shalabi – Shitmobil, U.S.A. (Adam Frank and Sam Shalabi)
Sam Shalabi – The Wherewithalll
(1) Ahhh les artistes et oh qu'ils sont fragiles. Une fois qu'une pratique se solidifie, les artistes deviennent bornés et réticents à prendre des risques, et de ce fait ils maintiennent un statu quo presque inévitablement. Comme un type, les artistes sont généralement conservateurs. À d'autres. (2) Une activiste et universitaire anciennement de Montréal. (3) Un quartette gaffeur de steamroller rock de Montréal. Si je me trompe pas ils ont sorti un album aux débuts de 21e siècle. (4) RIO signifie Rock in Opposition, une scène musicale européenne qui est apparue à la fin des années 70, le projet tellement amusant de laquelle était mélanger le matérialisme dialectique avec le chamber-prog. Legend de Henry Cow est le morceau clé ici. (5) Le superbe album de 1972 qui mettait en vedette le "Smiling Faces" ouvertement lourd et politique parmi les autres. C'est devenue quasiment parfaitement la musique mainstream grâce à Berry Gordy et le gang et bien sûr il mettait en vedette notre homme "Detroit Coffee" dans l'effet complètement bourdonnant. (6) Artiste B.D., propriétaire et galeriste. Il marche sur St. Viateur et les vieilles madames viennent courir sur la rue pour lui donner les fruits parfaitement murs comme s'il était une sorte de Corleone grec. (7) The Doggerel Bank était une groupe "psychédélique drôle". Le LP Skillicorn Dances de l'étiquette The Famous Charisma n'est pas impossible de trouver dans une boîte des disques pas chers.
---
---
---