New Canadiana :: Zacht Automaat – Bags Inside Bags
---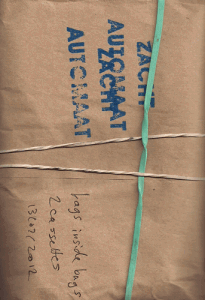 Zacht Automaat
Bags Inside Bags
(Self Released)
Toronto, ON

The depth of
Zacht Automaat's
bag of tricks seemingly knows no bounds, as evidenced by this lysergic whirligig of a double cassette. The Toronto-via-Hamilton-via-The Spaceways duo bent minds with their inaugural 2010-11 onslaught (seven original albums and a Beatles cover record) and have now drifted back into the cosmic consciousness with another hour-plus of mood-altering bubblegum. For
Bags Inside Bags
, the O.G. pairing of Ganesha-armed multi-instrumentalists Carl Didur and Michael McLean have enlisted Louis Percival (a.k.a. Broken Tree Fort a.k.a.
Onakabazien
) to man the traps, and Colin Fisher (one half of
NTW,NTF
) to lay down some skin-peeling sax. This monster release travels from kraut stomp to interstellar bliss-out with stops at the circus and of course a day-trip to
Canterbury
. For a deeper dip into the Automaat ouevre, check this in-depth and in-the-know
article
from the desk of Slim Twig.
[audio:http://weirdcanada.com/binary/Weird_Canada-Zacht_Automaat-Bags-Side_II.mp3|titles=Zacht Automaat – Side II] Zacht Automaat – Side II
---
---
---