New Canadiana :: TOPS – Tender Opposites
---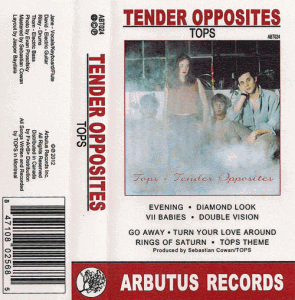 TOPS
Tender Opposites
Montreal, QC
From the jazzy moxy of James Lindsay:
In a way, TOPS embodies the Arbutus aesthetic. A world where it's always mid-summer, where the spirit of AM radio whimsically floats on warm air, and, because this is Montreal, we can drink in the park and not worry much about rent (I write this from Toronto where we worry about rent often and our musical equivalent might be the soon to be disbanded Foxfire). In TOPS, one can hear the jazzy moxy of Sean Nicholas Savage and Grimes' fey vocals, touches of Tonstartssbandht's echo pop and even hints of Doldrums' psych-synths. If Arbutus was a novel, the TOPS chapter might be subtitled "Simpler Times, Happier Times." And in a better world, this is what Stephin Merritt's good moods would sound like.
Des tripes jazzy de James Lindsay: (Traduit par Maya Keshav)
Dans un sens, TOPS incarne l'esthétique d'Arbutus. Un monde où on est toujours au milieu d'été, où l'esprit de la radio AM vole originalement dans l'air et, parce que c'est ici Montréal, on peut boire dans le parc et on n'a pas besoin de s'inquiéter trop pour le loyer (J'écris de Toronto où on s'inquiéte souvent pour le loyer et notre équivalent musical peut être le bientôt défunt Foxfire). Dans TOPS, on peut entendre les tripes jazzy de Sean Nicholas Savage et le chant féerique de Grimes, les touches de l'écho-pop de Tonstartssbandht et il y a même les soupçons des psych-synthés de Doldrums. Si Arbutus était un roman, le chapitre de TOPS pourrait avoir comme sous-titre "Les temps plus simple, les temps plus heureux." Et dans un meilleur monde, c'est cette musique à laquelle les bonnes humeurs de Stephin Merritt ressembleraient.
---
---
---