New Canadiana :: THIGHS – THIGHS
---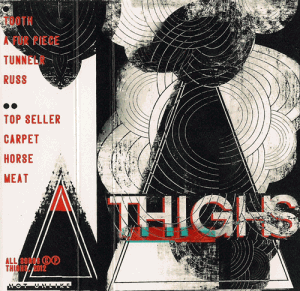 THIGHS
THIGHS
Toronto, ON

Comparisons fail me.
Jesus Lizard
? Someone said Krautrock; but who doesn't say that anymore? Dave from the
Soupcans
said "they just make you suck that one note over and over, like: suck-suck-suck-suck, suck-suck." Then Jesse Locke told me that they sounded like Edmonton. Sure, half the band is expats, but I had no idea Edmonton sounded like Satan himself sewed together the attitude of early
post-punk
with the palsied energy and noise of
spazz-punk
. There's some heavy hypnosis at work, convincing you that this sinister wave of noise is birth by a Toronto supergroup:
Pants and Tie
,
Young Truck
,
Odonis Odonis
, and the late/great Danger Bay.
[audio:http://weirdcanada.com/wp-content/uploads/2012/08/THIGHS-THIGHS-02-A-Fur-Piece.mp3|titles=THIGHS – A Fur Piece] THIGHS – A Fur Piece
[audio:http://weirdcanada.com/wp-content/uploads/2012/08/THIGHS-THIGHS-01-Tooth.mp3|titles=THIGHS – Tooth] THIGHS – Tooth
---
---
---