New Canadiana :: EXPWY – EP
---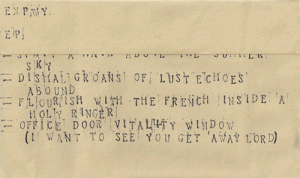 EXPWY
EP
(Self Released)
Montreal, QC

EXPWY's latest offering is a letter-size explosion of bent brazo-pop. With its genesis rooted in the hooked-out "I Love Montreal",
EP
swerves
with euphoric candor and popular relief; melancholic grooves carving synaptic routes for the lounge-laced summery snag while drum machine march ever forward. The fuzz guitars have been replaced with Brazilian nylon genius, but the impact is all
the same
: pure, insatiable pop addiction.
[audio:http://weirdcanada.com/wp-content/uploads/2012/08/01-Track-01.mp3|titles=EXPWY – Porthole marriage dance (I love Montreal)] EXPWY – Porthole marriage dance (I love Montreal)
[audio:http://weirdcanada.com/wp-content/uploads/2012/08/04-Track-04.mp3|titles=EXPW – Dismal groans of lust echoes abound] EXPWY – Dismal groans of lust echoes abound
[audio:http://weirdcanada.com/wp-content/uploads/2012/08/05-Track-05.mp3|titles=EXPWY – Flourish with the French inside a holy ringer] EXPWY – Flourish with the French inside a holy ringer
---
---
---