New Canadiana :: DJ Kinetik – Cosmik Freakout 1-3
---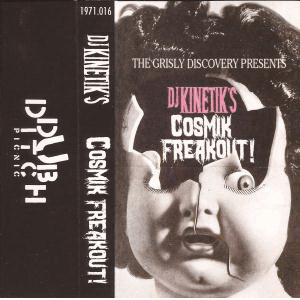 DJ Kinetik
Cosmic Freakout 1-3
Winnipeg, MB
From the hilarious hip-hoppitude of Taylor Burgess:
Finally, an after school special starring puppets of your favourite underground hip-hop producers beating each other with mallets, smarming their way through a poorly-written buddy cop/blaxploitation film, taking wikked long smoke breaks through the grainy orange-and-indigo sunset, and rolling their '82 Cutlass into the go-go dancer night. Mastermind producer DJ Kinetik is the man behind the mix; through these three 45-minute tapes, he has collected, cut, and crossfaded his way through piles of 45s to compile some of the most fantastic legit grooves with the relatively oblique. For those with a sense of humour and nostalgia, this should be a no-brainer.
De la hip-hoppitude hilarante de Taylor Burgess:
(Traduit par Maya Keshav)
Enfin, une émission spécial pour les enfants qui met en vedette les marionnettes de tes producteurs préférés de hip-hop avant-garde qui tabassent l'un et l'autre avec les maillets, qui fayotent dans un film mal écrit policier et blaxploitation, qui font des pauses méchamment longues pour fumer dans le crépuscule granuleux orange et indigo, et qui dansent avec leur '82 Cutlass dans la nuit go-go. Le producteur de génie DJ Kinetik est l'homme derrière le mix; avec ces trois cassettes de 45 minutes, il a ramassé, coupé, et fondent son chemin à traver les tas de 45s pour collectionner quelqu'uns des morceaux les plus légitement fantastiques ainsi que les relativement obliques. Pour ceux qui ont un sens de l'humour ainsi qu'un sens de la nostalgie, ça devrait être du gâteau.
DJ Kinetik – Cosmik Freakout 3
---
---
---