New Canadiana :: Black Walls – Acedia
---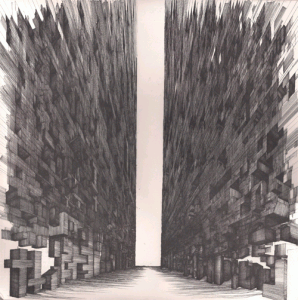 Black Walls
Acedia
Etobicoke, ON
From the crushing placidity of Mark Teo:
Acedia dives into the depths of Ken Reaume's psyche, and it's a sprawlingly gorgeous — if occasionally unsettling — place. Teenage skate-vid ephemera (see "Brian Lotti," narrated by the legend himself) intersects with finger-picked guitar cascades; sparse drum robotics, as on "Hiatus" or "Sun to Rise," underscore crushingly placid vocals, recalling Red House Painters after a three-day chemical bender; "Pines" is a blackened vocal choir for the Godless, before being washed away in whitecaps of white noise. Acedia's final chapter, "Mark's Song," is a full-blown Sunday morning existential crisis: It cracks the blinds to Reaume's sunny finger-picking, before the previous night's minor-key regrets slowly seep in. Beautiful, blackened psych-folk for the self-loathing.
De le flegme dévastateur de Mark Teo: (Traduit par la dévastation flegmatique de Maya Keshav)
Acedia saute dans les entrailles de l'âme de Ken Reaume, et c'est un endroit merveilleusement étendu— même si c'est occasionnellement perturbant. Les éphémères skate-vidéo d'ado (veuillez voir "Brian Lotti", raconté par la légende elle-même) se croisent avec les flots de guitare doigtée; la robotique rare de batterie, comme dans "Hiatus" ou "Sun to Rise", souligne le chant terriblement placide, en rappellant Red House Painters après une tornade chimique de trois jours; "Pines" est une choral noircie pour ceux qui sont sans dieu, avant qu'il soit enlevé par les crêtes de bruit blanc. Le dernier chapitre d'Acedia, "Mark's Song", est une crise existentielle véritable de dimanche matin: Il ouvert les stores aus grattements de doigt insouciants de Reaume, avant que les regrets en mode mineur de la nuit dernière gouttent lentement. Le beau psych-folk noirci pour tout le monde qui a haine de soi-même.
---
---
---