New Canadiana :: Various Artists – PIXXX3
---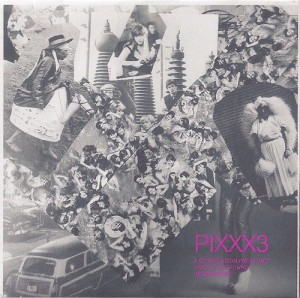 Various Artists
PIXXX3
Asterisk, Canada

Following a sacral network of
obscure contours
to somewhere in the middle of Calgary and Vancouver (perhaps in some rune-filled terminus), the members of
USSR
congregate and document themselves.
PIXXX3
finds them frozen like statues buried under the ash of some great Pompeii, caught unawares in the midst of some unknown millenarian liturgy, their ritualized poses interlocking through unknown
geometries
towards a transcendental logic.
Hobo Cubes
' bubbling opening overlooks an abyss of tenebrous depths and sonorous chambers, explored by the voices of Aaron Sereda and Josh Fraser. Burro's pall of desert dissonance collapses into Mongst's expansive drone. Country and Western offers Teutonic excursions while Cadillac Spring blasts damaged acrid folk. Everything fits. Highly recommended: listen to the whole thing
here
.
[audio:http://weirdcanada.com/wp-content/uploads/2012/07/01-Lightspeed.mp3|titles=Hobo Cubes – Lightspeed] Hobo Cubes – Lightspeed
[audio:http://weirdcanada.com/wp-content/uploads/2012/07/13-Untitled.mp3|titles=Fraser/Sereda – Untitled] Fraser/Sereda – Untitled
[audio:http://weirdcanada.com/wp-content/uploads/2012/07/12-Storm_Cave.mp3|titles=Valiska – Storm/Cave] Valiska – Storm/Cave
---
---
---