New Canadiana :: The Hot Nasties – The Invasion of the Tribbles EP
---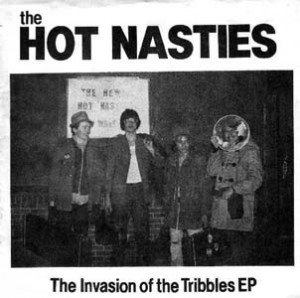 The Hot Nasties
The Invasion of the Tribbles EP
(Ugly Pop)
Calgary, AB
Originally Released: 1980
::web/sounds::

From the official opposition of
Mark Teo
:
Before Warren Kinsella peacocked into a full-blown
Liberal svengali
he was creating hot messes at the
Calgarian Hotel
— one of the nation's formative punk dives — with
the Hot Nasties
. Like a divergent australopithecine strain,
The Invasion
shares many tendencies with its descendants, while dabbling in different musical genera entirely: On its A-side, it establishes its '77-proof DNA with "I am a Confused Teenager" before deteriorating into guttural discord and pre-hardcoric
throat-shredding
in "Invasion of the Tribbles." B-sider "The Secret of Immortality" is yet another permutation, pairing open-air drive-thru pop with pensive ruminations on morality, life, death and Catholic guilt — foreshadowing, perhaps, Kinsella's future sociopolitical explorations. True Grit, indeed.
[audio:http://weirdcanada.com/binary/Weird_Canada-The_Hot_Nasties-Side_B.mp3|titles=The Hot Nasties – The Secret of Immortality] The Hot Nasties – The Secret of Immortality
---
---
---