New Canadiana :: Quatro – Les éclairs me donnent la vie
---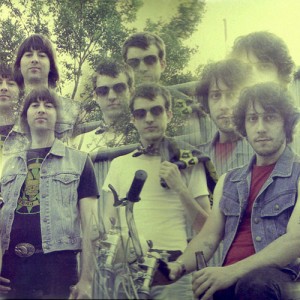 Quatro
Les éclairs me donnent la vie
(Les Disques Laurentien / Tir groupé)
Montréal, QC

Une croisade space-disco entreprise par des membres des Georges Leningrad et de Duchess Says, ce 12″ unilatéral de 12 minutes de Quatro est le premier d'une tétralogie – comme quoi toute est dans toute est dans toute est dans toute. Réappropriés d'un glorieux passé, les grooves
chevaleresques
des synthés de champions sont éclairés par les prouesses sirupeuses d'une guitare qui sublime ses relents hard rock dans l'espace afin de former une constellation en
pentaptyque
qui progresse en fracas dansant pour se terminer dans un
BANG
. Sexy, torturé et dangereux, ce premier bonjour de Quatro rappelle que le disco a
déjà brassé le booty du Québec
et qu'il en a traversé les époques en tabarnac.
From the circular maths of Benoit Poirier:
A space-disco crusade initiated by members of Montreal heroes Les Georges Leningrad and Duchess Says, this 12-minute one-sided 12" from Quatro is the first of a tetralogy — for everything is in everything is in everything is in everything. Brought back from a glorious past, the championing synths' chivalrous grooves are enlightened by the prowess of a guitar that sublimes its hard rock hints into space to form a pentaptychal constellation, which progresses through a dancing wallop and ends with a BANG. Sexy, tormented and dangerous, Quatro's first wax blast reminds us that disco has been shaking Quebec's booty for a while, and still does en tabarnac.
[audio:http://weirdcanada.com/binary/Weird_Canada-Quatro.mp3|titles=Quatro – Les éclairs me donnent la vie (5 pistes)] Quatro – Les éclairs me donnent la vie (5 pistes)
---
---
---