New Canadiana :: Wolfcow – Mummies Call
---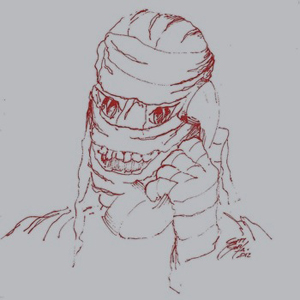 Wolfcow
Mummies Call
(Self Released)
Toronto, ON

Wolfcow's Greydyn is prolific to the point of perdurable
refraction
:
Mummies Call
being the newest circle that he travels in a series of
concentric
psychic victory laps. The album itself is composed of 23 mind-erasing ecclesial monuments and/or lunatic parades for synth, maddening vocals,
Helios Creed
guitars and eternal pounding. Lovingly packaged with a cover by Gary Gatti. Both recommended gripping and
cosmic slam dunk
.
[audio:http://weirdcanada.com/wp-content/uploads/2012/06/10-Caveman-Bones.mp3|titles=Wolfcow – Caveman Bones] Wolfcow – Caveman Bones
[audio:http://weirdcanada.com/wp-content/uploads/2012/06/06-Holy-Hole.mp3|titles=Wolfcow – Holy Hole] Wolfcow – Holy Hole
[audio:http://weirdcanada.com/wp-content/uploads/2012/06/09-TB-Frogs.mp3|titles=Wolfcow – TB Frogs] Wolfcow – TB Frogs
---
---
---