New Canadiana :: Vulgar, you! – Fais-moi cuire, fais-moi jouir
---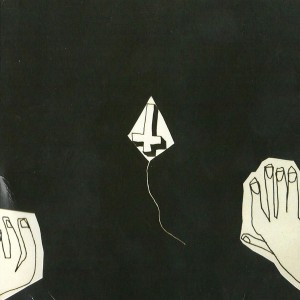 Vulgar, you!
Fais-moi cuire, fais-moi jouir
(Self Released)
Québec, QC

Un dance party angoissant, mais un party quand même : la voix d'un la
Fred Schneider
fantomatique mène des guitares spastiques, des volutes synth-chédéliques et un tapochage de Neandertal à travers une dense
ambiance de sélection naturelle
. Des tounes qui crient vers les cavernes, préhistoriques et brutales, rendues intrigantes par des mélodies vivides et tordues qui rampent vers toi comme des peurs que tu t'inventes : je veux dire, tu vas pas avoir peur d'un CD, t'es plus fort que ça, mais ces gars-là PORTENT DES MASQUES.
From the vulgar cooking skills of Benoit Poirier:
A creepy dance party, but a party nonetheless – ghoulish Fred Schneider vocals lead the spastic guitars, synth-chedelic swirls and Neanderthal stomps of this groovy post-punker through its thick survival-of-the-fittest mood. These songs are screaming towards caverns in a prehistorically brutal fashion, made intriguing by the vividly twisted melodies that crawl up to you like made-up fears: I mean, you won't be afraid of a piece of digitalia, you're tougher than this, but these guys WEAR MASKS.
[audio:http://weirdcanada.com/wp-content/uploads/2012/05/03-Muy-Tornado.mp3|titles=Vulgar, you – Muy Tornado] Vulgar, you! – Muy Tornado
[audio:http://weirdcanada.com/wp-content/uploads/2012/05/02-Crystal-Fuck.mp3|titles=Vulgar, you – Crystal Fuck] Vulgar, you! – Crystal Fuck
---
---
---