New Canadiana :: Ocular Gymnastics – Vol. 1
---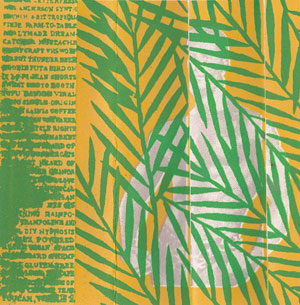 Ocular Gymnastics
Vol. 1
Montreal, QC
From the pedal-jammed meditations of Jesse Locke:
Encased in a squeeze box of screen printed palms, Ocular Gymnastics' debut transmission is as lavishly packaged as it is blissful. Pedal-jammed Casio meditations cast ripples across the mind-pond while the mountain of found-sound percussion clanks and rattles down the cortex. Only Moduli TV could provide suitable visual accompaniment for these C.H.U.D. ravers in a tropical time-warp à la Bamboo For Two.
Des méditations de pédales coincées de Jesse Locke: (Traduit par Odile Leclerc)
Enfermés dans un accordéon de paumes sérigraphiées, la transmission des débuts de Ocular Gymnastic est autant emballé suptueusement que c'est divin. Les méditations de pédale coincée de Casio projettent des ondulations à travers l'étang-esprit pendant que la montage de percussion des sons trouvés cliquète et dégringole dans le cortex. Seul Moduli TV pourrait fournir un accompagnement visuel approprié pour ces raveurs C.H.U.D. dans une dimension parallèle tropicale à la Bamboo For Two.
---
---
---