New Canadiana :: Moonwood – River Ghosts
---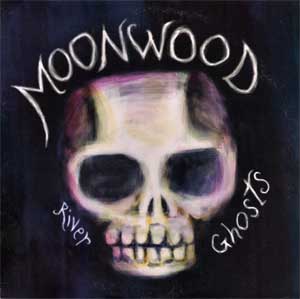 Moonwood
River Ghosts
Etobicoke, ON
From the choleric woes of Aaron Levin and Jesse Locke:
Borne on the fever dreams of aquatic explorers, Moonwood journey fringeward through the fourth underworld. Their mesmerizing pursuit of exotic minimalism is peppered with gourd flutes, lap harps and ekatantari to give their forlorn excursions final entry within nature's infinite drone. Music for water borne disease, indeed. Clear-blue vinyl for the pure of grip.
Du malheur cholérique d'Aaron Levin et de Jesse Locke: (Traduit par Maya Keshav)
Porté par les hallucinations à la fièvre des explorateurs aquatiques, Moonwood voyagent vers la marge à travers la quatrième pègre. Leur poursuite hypnotique du minimalisme exotique est tacheté par les flûtes de gourde, les harpes qui tiennent sur les genoux, et les ekatantari pour donner enfin à leur excursions mélancoliques l'entrée dans le drone infini de la nature. C'est de la musique pour les maladies d'origine hydriques, bien sûr. De vinyle bleu clair pour ceux qui sont les vrais acheteurs.
Moonwood – Drawing Water From a Poisoned Well
Moonwood – Six Daemon Medicine Bag
---
---
---