Departures :: Lewis – L'Amour [1983]
---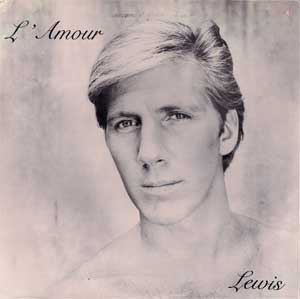 Lewis
L'Amour
(R.A.W. Records)
???, Canada
Originally Released: 1983
From the summer's moon of Aaron Levin:
Thanks to the hard work of Numero Group's Rob Sevier, the world's most epic soft-synth mumbler has been caught with a Canadian citizenship. What started with a chance pull in an Edmonton flea-market by one Jon Murphy, ended in a bewildering world-wide phenomenon of softness. Lewis' lone LP from 1983 is as unusual as it is delicate; an incomprehensible whispered drawl lingers above mysts of smooth-laced synthesizers and nylon guitar as Lewis croons his way through inaudible love, suffering, and mid-afternoon bliss. The confusion accelerates as you begin to dissect the record: dedications to Christie Brinkley, an incredible facsimile on the cover (looking surprisingly like Aaron Levin), a record label named R.A.W., and a history of rip-offs and potential murders (uncovered by multiple individuals tracking members associated with Lewis' LP). In the end there are no answers. Lewis remains a mystery, with only his name (not Lewis), citizenship (Canadian), and a PO Box in Hawaii. I once found five copies in Calgary, Alberta, which makes me believe this unidentified future softness began in the heart of wild roses. But we may only wonder. Until then, enjoy the most incomprehensible album in the universe (yes, it's softer than THOMAS). If you can transcribe the lyrics to "I Thought The World of You" I will give you a rare record. [Special thanks for those involved in uncovering the Lewis mystery (and laughing at me when I began to champion it): Jon Murphy, Rob Sevier, Jack Fernwood, and Douglas McGowan].
De la lune estivale d'Aaron Levin: (Traduit par le clair de lune de Maya Keshav)
Grâce au travail dur de Rob Sevier de Numero Group, le marmonneur soft-synthé le plus énorme du monde a été attrapé avec une citoyenneté canadienne. Ce qui a commencé avec une trouvaille dans un marché aux puces à Edmonton de Jon Murphy a fini en tant que phénomène planétaire déroutant de douceur. Le seul LP de Lewis de 1983 est aussi étrange que délicat; un chuchotement incompréhensible reste au-dessous des brouillards de synthés doux en dentelle et de la guitare en nylon pendant que Lewis chantonne à travers l'amour inaudible, les souffrances, et la joie d'après-midi. La confusion augmente pendant que tu commences à disséquer l'album: les dédicaces à Christie Brinkley, un fac-similé incroyable sur la couverture (qui ressemble étonnamment à Aaron Levin), une étiquette qui s'appelle R.A.W., et une histoire d'arnaques et de meurtres possibles (découverts par plusieurs personnes qui ont suivi les membres associés au LP de Lewis). Au bout du compte, il n'y a aucune réponse. Lewis reste un mystère, avec seulement son nom (pas Lewis), sa citoyenneté (canadienne), et une boîte postale à Hawaii. Un fois j'ai trouvé cinq copies à Calgary, en Alberta, qui me donne l'idée que cette douceur imminente anonyme a commencé au cœur des roses sauvages. Mais on ne peut que se demander. Jusqu'alors, on vous présente l'album le plus incompréhensible dans l'univers (oui, c'est même plus doux que THOMAS). Si vous pouvez transcire les paroles de "I Thought The World of You" je vais vous donner un morceau rare. [J'aimerais remercier surtout ceux qui s'impliquaient dans le dévoilement du mystère de Lewis (et de rire de moi quand j'ai commencé de le défendre): Jon Murphy, Rob Sevier, Jack Fernwood, and Douglas McGowan].
Lewis – I Thought The World of You
---
---
---