New Canadiana :: Escapists – HPPD Island
---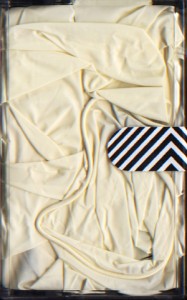 Escapists
HPPD Island
Montreal, QC
From the archipelago of Jesse Locke:
Swaddling their inaugural cassette in a surgical glove cocoon, Montreal's newest modular synth and electronics power duo scramble brains like Ramsay does eggs. The inspired mind-meld of Frank "Hobo" De Gallo and Jesse "Meat Parade" Osborne-Lanthier oozes from ear to ear with effervescent washes, high-pitched squeaks and interplanetary gabber in a post-space-rave chillout room. The totemic objects encased within offer a time capsule from the year 2046. O.R. They?
De l'archipel de Jesse Locke: (Traduit par Odile Leclerc)
Emmaillotant leur cassette inaugurale dans un cocon de gants chirurgical. La plus récente synth modulaire de Montréal et l'électronique duo en puissance brouillent les cerveaux comme Ramsay le fait pour des œufs. La fonte d'esprit inspiré de Frank ''Hobo'' De Gallo et "Meat Parade" de Jesse Osborne Lanthier suintent d'oreille à oreille avec des lavages d'effervescence, des grincements aigues et de gabber interplanétaire dans une pièce de détente de rave post espace. Les objets de totem enfermés dedans offre une capsule temporelle de l'année 2046. O.R-t'ils?
Escapists – An Ergoline Sky (excerpt)
Escapists – The Lysergide Shores (excerpt)
---
---
---