New Canadiana :: PONCTUATION – EP
---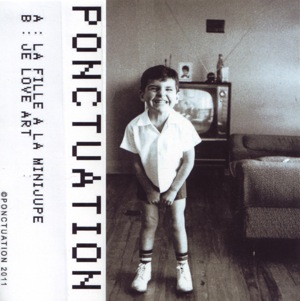 PONCTUATION
EP
(Self Released)
Québec, QC

PONCTUATION, duo de punk garage guitare/batterie de Québec-la-ville, a fait paraître cette
cassette de deux tounes qui s'appelle EP
en mai, qui sera bientôt suivie d'un
EP de 4 tounes sur 7″ qui ne pourra pas s'appeler EP
bien qu'il sera bien plus un EP que ce simple simple, n'est-ce pas. C'est le fuzz amusé d'une guitare habile dont les envolées criardes ne s'éloignent jamais trop longtemps du tapochage primal des peaux pour des brûlots gaillards enveloppés d'une tendresse agitée de
geeks de la musique
: une « Fille à la mini-jupe » punky, pas mal
Sonics-esque
et une dodelinante slack n' roll et quelque peu Thee Oh Sees-esque « je love ART », deux petits brins d'épopée dans le bruit. Meilleur nouveau groupe franco de l'année? Je pense que oui.
From the perky comma of Benoit Poirier:
PONCTUATION, the guitar/drums garage/punk brother duo from Quebec City, released this two-song cassette named EP> last May, which will be soon followed by a 4-song 7" EP that won't be properly named EP while being way more of an EP than this charming cassingle. Get it? It's the amused fuzz of an apt guitar whose soaring shrieks never wander too far away from the primal pummelling of the skins, for a perky hot mess delivered with eager and fidgety care befitting music geeks: a punky and Sonics-esque "La fille à la mini-jupe" and a nodding slack n' roll and a bit Oh Sees-esque "je love ART". Two nuggets of garage epic. Best new franco act of the year? I think so.
[audio:http://weirdcanada.com/wp-content/uploads/2011/11/Weird_Canada_-_Ponctuation_-_la_fille_à_la_mini-jupe.mp3|titles=Ponctuation – la fille à la mini-jupe] Ponctuation – la fille à la mini-jupe
[audio:http://weirdcanada.com/wp-content/uploads/2011/11/Weird_Canada_-_Ponctuation_-_je_love_ART.mp3|titles=Ponctuation – je love ART] Ponctuation – je love ART
---
---
---