New Canadiana :: Krang – Choke Hits
---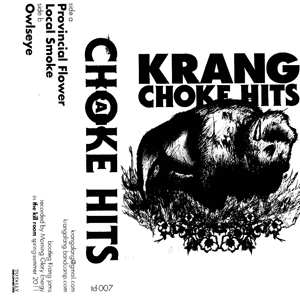 Krang
Choke Hits
Edmonton, AB
From the dad blues of Jesse Locke:
Billowing clouds of Bob Hope waft from the airbrushed van of these riff-razing moccasin rockers and their illicit Iommion smoke ring. Choke Hits' marathon blazers outpace even Electric Wizard yet maintain enough movement throughout to avoid basement couch burnout. Amidst the ashen embers of gnarled guitar damage, hi-hats crackle and tom rolls pop, as far off (and out) electronics hover like UFOs in the hazy heavens over Roswell. Call it The Chronic 2011.
Du blues papa de Jesse Locke: (Traduit par Maya Keshav)
Les nuages doux de Bob Hope émanent du fourgon retouché de ces rockers riff-détruisants en mocassin et leur rond de fumée illicite à la Iommion. Les morceaux marathons de Choke Hits dépassent même Electric Wizard mais maintient assez de mouvement partout pour éviter le burn out de sofa sous-sol. Parmi la braise blême de dommages de guitare noueuse, les hi-hats crépitent et les rythmes de tam-tam sautillent, pendant que l'électronique au loin plane comme les OVNIs dans les cieux flou au-dessus de Roswell. Appelez-le The Chronic 2011..
---
---
---