New Canadiana :: Duchess Says – In a Fung Day T!
---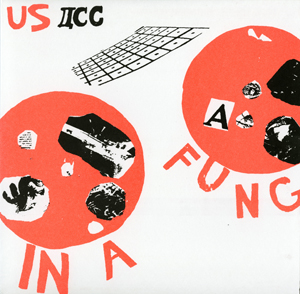 Duchess Says
In a Fung Day T!
(Alien8)
Montreal, QC

Machete-cut chunks sliced straight out of the
post-punk ether
, Duchess Says reiterate their whirlwind shrieks and jabbing throbs, rousing your tendons into
unconditional muscular praise
. Join the noise-wave church of switchblade synths and bass bullies, their tortures involving dissonant Moog squelches, sweaty mosh pits, frantic dancefloors and a few slower songs. Oh, and of course everything singer Annie-Claude
hurls at you
.
De la soumission de Gabriel Jasmin:
Puisées de l'éther post-punk, puis découpés à la machette, les nouvelles pièces de Duchess Says réitèrent leur boucan orageux à grands coups de poing, martelant tes tendons vers la louange musculaire inconditionnelle. À l'église du noise-wave, les synthés sont bien aiguisés et la basse est une brute à gros bras, leurs tortures impliquant la dissonance vacillante du moog, l'humidité aromatisée des mosh-pits, les dancefloors frénétiques et quelques pièces presque calmes. Aussi, bien sûr, tout ce qu'Annie-Claude te lanceras à la figure.
[audio:http://weirdcanada.com/binary/Weird_Canada_-_Duchess_Says_-_Narcisse_1.mp3|titles=Duchess Says – Narcisse] Duchess Says – Narcisse
[audio:http://weirdcanada.com/binary/Weird_Canada_-_Duchess_Says_-_L'ordre_Des_Secteurs_1.mp3|titles=Duchess Says – L'ordre Des Secteurs]Duchess Says – L'ordre Des Secteurs
---
---
---