New Canadiana :: Les Nitrates de Madame Mimieux – Rien n'est moins grave
---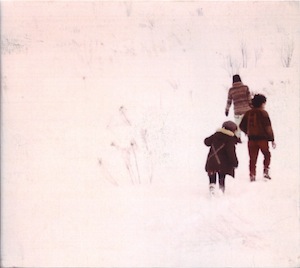 Les Nitrates de Madame Mimieux
Rien n'est moins grave
Sutton, QC

Une comète qui a fui la grand ville (Montréal) pour échapper au malheur, Les Nitrates de Madame Mimieux (R.I.P. 2011-2011) se sont retrouvées à
Sutton
dans les Cantons de l'est et, en retrait, ont tranquillement travaillé sur un premier opus de slacker folk-pop fusant de vieux synthés, aussi
vaste et charnu que leur région d'adoption
, et autant capable d'envolées rédemptrices, vives et libérées que d'ambiances douces ou préoccupées. Musique de pluie avec une ferme intention de te prendre par la main, variable comme les saisons sans jamais être complètement sombre, comme si
Sonic seasonings
de Walter Wendy Carlos étaient interprété par
Chad VanGaalen
ou Avec pas d'casque avec quelques moments de fuzz 90s.
From the small-town sweet epic of Benoit Poirier:
A comet that fled the big city (Montreal) to get away from its sorrow, Les Nitrates de Madame Mimieux (R.I.P. 2011-2011) landed in the small Eastern Townships' village of Sutton. Quietly, the band began to work on a first opus of slacker folk-pop, soaring with old synths as vast and textured as the region that welcomed them and capable as much of towering, carried out moments as it is soft or worried ambience. This is lively music for a rainy day with a definite intention of taking you by the hand, changeable like the seasons while never getting completely dark, as if Walter Wendy Carlos' Sonic Seasonings were played by Chad VanGaalen. Small-town sweet epic.
[audio:http://weirdcanada.com/wp-content/uploads/2011/10/Weird_Canada_-_Les_Nitrates_de_Madame_Mimieux_-_Lumiere_Rose.mp3|titles=Les Nitrates de Madame Mimieux – Lumière Rose] Les Nitrates de Madame Mimieux – Lumière Rose
[audio:http://weirdcanada.com/wp-content/uploads/2011/10/Weird_Canada_-_Les_Nitrates_de_Madame_Mimieux_-_DSO_4-1.mp3|titles=Les Nitrates de Madame Mimieux – DSO 4-1] Les Nitrates de Madame Mimieux – DSO 4-1
---
---
---