New Canadiana :: Das Amore feat. JLK – Lo sveglio del estasi
---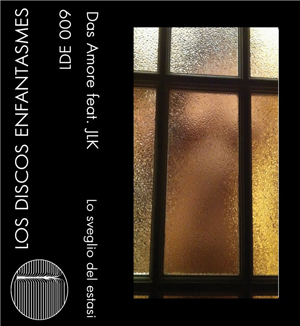 Das Amore feat. JLK
Lo sveglio del estasi
Montreal, QC
From the disco-limbo contest of Pam Haasen:
To describe Lo sveglio del estasi as "weird" is almost unfair. The subjectiveness of this far-out nightmare turned disco-limbo creates a genre of uncertainty, which is so sexual that I'm afraid I'm the only one who feels this way. I feel naked and awake but in a trance-like state, swaying and bobbing in a slow motion dance alone in Parts Unknown. Das Amore and JLK sound simultaneously natural and synthetic, with drum beats that come from the knocking of a headboard. This trip takes you out of yourself for the shortest half hour of your life and drops you off wanting to ride again.
Du concours disco-limbo de Pam Haasen: (Traduit par Maya Keshav)
Décrire Lo sveglio del estasi comme "bizarre" est presque injuste. La subjectivité de ce cauchemar excentrique devenu disco-limbo crée un genre d'incertitude, qui est si sexuel que j'ai peur que je sois le seul qui a ce sentiment. J'ai l'impression d'être nu et réveillé mais dans une sorte de transe, en chancelant dans une danse solitaire dans les Parts Unknown. Das Amore et JLK ont l'air simultanément naturel et synthétique, avec les rythmes du tambour qui viennent du cognement d'une tête de lit. Ce voyage te fait sortir de ton corps pour les trentes minutes les plus courtes de ta vie et te laisse l'envie de voyager encore.
Das Amore feat. JLK – Introduzione al desiderio de la pelle
Das Amore feat. JLK – Soddisfazione impossibile
---
---
---