New Canadiana :: Mallory Knox – Pus Crunk Luv
---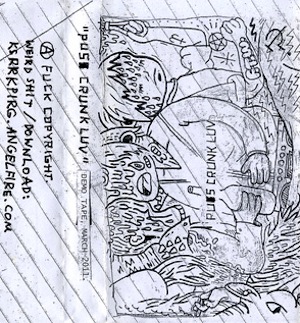 Mallory Knox
Pus Crunk Luv
(Self Released)
Winnipeg, MB
::web/sounds::

HEY YOU GENDER-FLUID, CAPITALISM-REVOLTING, QUEER-FRIENDLY THING. Are you and your friends sick of dirty cops and how they crack down on the unprivileged rather than
white collar crime
? Does your punk scene have wayyyyyy too much machismo? Do you get strange looks any time you put on
Top 40 hip hop
at a party (To steal back the sweet beats, disregard the hateful lyrics n tweets!!)? Well Mallory Knox is an anarchistic dose of sensibility. She makes tunes ranging from straight-up Top 40 auto-tune covers to blistering original folk punk anthems, and every modulation in between. Shoplifting lyrics from Cormac McCarthy and beats from
Black Eyed Peas
, no copyrighted content is safe. Mallory Knox doesn't really trust me, you, or anyone either, but she probably has faith in us, otherwise she wouldn't hand out
these tapes for free
.
[audio:http://weirdcanada.com/wp-content/uploads/2011/09/Weird_Canada_-_Mallory_Knox_-_If_I_Hate_You.mp3|titles=Mallory Knox – I Hate You] Mallory Knox – I Hate You
[audio:http://weirdcanada.com/wp-content/uploads/2011/09/Weird_Canada_-_Mallory_Knox_-_Puke_Shit.mp3|titles=Mallory Knox – Puke Shit] Mallory Knox – Puke Shit
---
---
---