New Canadiana :: Jom Comyn – Sunstroke EP
---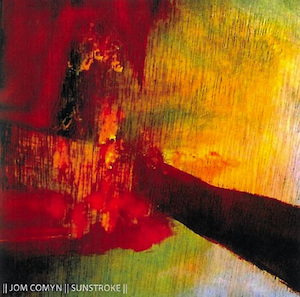 Jom Comyn
Sunstroke EP
Edmonton, AB
From the brutalist centre of Jared Majeski:
Mentioned before are the utterances and inspirations one communicates through simple habitation of an isolated, brutalist centre like Edmonton. Pleasantly mercurial, Jom Comyn's disparate croonerism makes us venture not waaaaaaay up, but way in; another rural-reared summation of despair, darkness, love and family. Sunstroke fuses steady melody ("Hatchet in the Garage"), sharp-toned proggy instrumentation ("Heatstroke") and neighbourly back-up; all of course lathed with that familiar subtly of Jim Cuming's monochromatic vocals. Wherever your tiny existence rests each night, remember to collect dust, soak up the eternal cold and take heed of your surroundings.
Du centre brutaliste de Jared Majeski: (Traduit par Odile Leclerc)
Mentionné avant sont les énonciations et les inspirations qu'une personne communique à travers de simple habitation d'un centre isolé et brutaliste comme Edmonton. Agréablement mercuriel, le chantonnement disparate nous fait nous aventurer pas biiennn en haut, mais bien dedans; une autre addition de désespoir, de noirceur, d'amour et de famille. De l'insolation fusionne une mélodie stable ("Hatchet in the Garage"), de l'instrumentation prog au timbre tranchant (''Heathstroke'') et de soutien de voisin; tous bien évidemment latté de ce subtil familier des vocales monochromatiques de Jim Cuming. Peu importe où votre petite existence se repose chaque nuit, souvenez-vous de ramassez de la poussière, trempez le froid éternel et prenez garde à ce qui vous entoure.
---
---
---