New Canadiana :: Meta Gruau – Feu de poubelle b/w Jupiter
---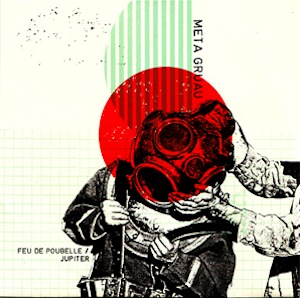 Meta Gruau
Feu de poubelle b/w Jupiter
(Flange Patrol)
Montreal, PQ

Le trio sludge-synth-punk revient (déjà!) avec un petit ciré qui fait suite à
Tendre et mauve
, y allant dans le piton en te martelant l'ouïe jusqu'à ce que les autres sens flanchent en dansant sur « Feu de poubelle », abusant de la
cloche à vache
au point de rendre ineptes les
jokes de SNL;
; se ravisant, ralentissant pour souffler un peu sur la bien-nommée
« Jupiter »
qui sonne comme la grandeur des
mystères de l'univers
évalués à partir d'un patio en fin de journée l'été. Danse, pense à ça, danse, pense à ça, aux 3 minutes. Édition de 300 avec pochette sérigraphiée par le groupe.
From the backstreet philosophy of Benoit Poirier:
Montreal's own franco sludge-synth-punk trio is (already!) back with a bit of wax, following last year's Tendre et mauve. High-speed ear-whammer "Feu de poubelle" will make your other senses fail with excessive dancing by way of way too much cowbell, to a point where SNL jokes are no longer valid. On the flipside, they slow down the pace for the appropriately named "Jupiter", which sounds like the vastness of the mysteries of the universe solved from a patio on a hot summer night. Dance, think about it, dance, think about it, every three minutes. Edition of 300 with cover art silkscreened by the band.
[audio:http://weirdcanada.com/wp-content/uploads/2011/08/Weird_Canada-Meta_Gruau-Jupiter.mp3|titles=Meta Gruau – Jupiter] Meta Gruau – Jupiter
[audio:http://weirdcanada.com/wp-content/uploads/2011/08/Weird_Canada-Meta_Gruau-Feu_de_poubelle.mp3|titles=Meta Gruau – Feu de poubelle] Meta Gruau – Feu de poubelle
---
---
---