New Canadiana :: Élément Kuuda – Flight 2
---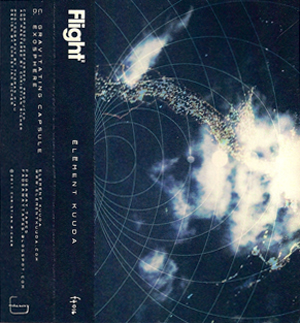 Élément Kuuda
Flight 2
Montreal, QC
From the flight simulator of Jesse Locke:
When he's not busy blasting out wasted summer megahits, Montreal's Christian Richer lifts off into his primary plane of milky way mellow. The dazzling sequel to last year's Flight features two new sidelong synthscapes, both transcending background sound to shimmer on your front burner. "Exosphere" gurgles like an infant extraterrestrial in a playpen made of moonbeams, while "Gravitating Capsule" casts twinkling lights to illuminate celestial bottlenose. Come sail away.
Du simulateur de vol de Jesse Locke: (Le mode en rafale de Odile Leclerc)
Quand il n'est pas occupé à exploser des mégahits décharnés de l'été, Christian Richer de Montréal s'envole dans son avion primaire de douceur de la voie lactée. L'éblouissante séquelle du Flight de l'année dernière présente deux nouveaux paysages de synths du côté, les deux transcendant le son d'arrière plan en scintillement sur votre graveur avant. ''Exosphere'' gargouille comme un bébé extraterrestre dans un terrain de jeux fait de faisceaux lunaires, pendant que ''GRavitating Capsule'' projette des lumières clignotantes pour illuminer de céleste dauphins à bec. Venez naviguez au loin.
Élément Kuuda – Exosphere (excerpt)
Élément Kuuda – Gravitating Capsule (excerpt)
---
---
---