Imprint :: Prairie Fire Tapes // Dub Ditch Picnic
---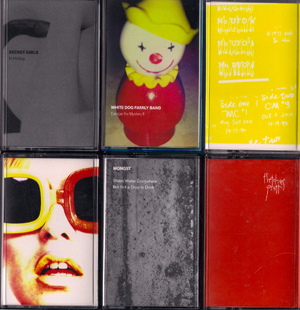 Prairie Fire Tapes // Dub Ditch Picnic
Winnipeg, MB

Winnipeg cassette label
Prairie Fire Tapes
and its bratty little brother
Dub Ditch Picnic
might be relatively new on the scene, but both have staked a claim with their ongoing stream of head-tweaking sounds. From the warped pop of Bill Northcott and his various aliases (
F.P. Tranquilizer
, The Incinerators, Microdot) to heavier hitters like Fossils, Mongst and Worker, Weird Canada favourite
Fletcher Pratt
, the unclassifiable
No UFO's
and so much more, co-founders Chris Jacques (White Dog) and Cole Peters (Gomeisa, Secret Girls) are carving out their own piece of the pie. We spoke to Chris about PFT and DDP's past, present and future.
Jesse Locke
Managing Editor
Weird Canada // Texture Magazine
http://weirdcanada.com // http://texturemagazine.ca/wordpress
[audio:http://weirdcanada.com/wp-content/uploads/2011/08/Weird_Canada-Mongst-Negative_Liberty.mp3|titles=Mongst – Negative Liberty] Mongst – Negative Liberty
[audio:http://weirdcanada.com/wp-content/uploads/2011/08/Weird_Canada-Secret_Girls-Ten_Thousand_Winter.mp3|titles=Secret Girls – Ten Thousand Winter] Secret Girls – Ten Thousand Winters
[audio:http://weirdcanada.com/wp-content/uploads/2011/08/Weird_Canada-Fletcher_Pratt-Weird_Dub_1.mp3|titles=Fletcher Pratt – Weird Dub 1] Fletcher Pratt – Weird Dub
1 :: How did you launch your label and why? C.R.E.A.M.?

The story begins Jan. 2010 when Prairie Fire Tapes hit the scene. Cole Peters and I were talking about releasing a split cassette. We had distributed the workload to me sourcing the tape and production and Cole would do the art and have the j-cards made up. I think a day after we decided to do the tape we thought, well, let's give running a label a shot. A few months in, I started to become aware of bands that I wanted to work with that I couldn't justify having as part of the PF roster. So in order to keep Prairie Fire focused on drone, noise, and experimentalism, I launched Dub Ditch Picnic in June of 2010. The releases on DDP really mirror my record collection — it's pretty vast and varied. I have a dream of being able to have one or both of the labels make the leap from cassettes only into pressing LPs in the next year or so. But vinyl is pretty time consuming and my time is pretty limited. So once I have completed a few other major projects that currently have my attention, I will look at releasing a slew of really weird records.
2 :: To date, which of your releases has been: a) the best-seller, b) your favourite and c) the biggest bummer?

The best sellers have all been on Prairie Fire — Tom Carter, Kplr, Worker, and the Gomeisa tapes consistently flew out the doors. Picking my favourite would be much harder — the Solars tape was stunning. I still get goosebumps when I jam that. The Krautheim cassette on DDP would have to be one of my all time faves. Those guys turned in one awesome recording. No bummers really. There have been a couple releases that didn't resonate with folks for one reason or another. Take the last batch of PF tapes. I think all five are solid — Alms, White Dog, Secret Girls, Mongst, and White Creeps. We released those right around the time of the mail strike and we've had a real time trying to get them in the hands of people. The biggest bummer is releasing a great tape to a disinterested public. I haven't been disappointed by any of the artists we've worked with. I stand behind every single tape we've done.
3 :: What sets you apart from other labels? Music, art, liner notes, posters, glossy 8.5" x 11" head-shots?

The art direction, design and our approach to making the best sounding tape possible sets us apart from other labels. I buy a lot of stuff, and much of it on cassette. I feel really let down when I get a tape that was mastered poorly or duplicated with more hiss than music. I have sourced out some professional grade duplicators as well as some higher end decks to for mastering. I do checks throughout the process to make sure that the tapes are sounding the way they should. I have redone a few runs because that tape was too quiet or had too much hiss or whatever. We are musicians and music fans — we treat our bands and our customers the way we want to be treated.
4 :: Future plans? What can grippers look forward to gripping?

On Prairie Fire we've been setting up releases with Misner Space, Sundrips, and a full length Horders cassette. Dub Ditch has been working on a few comps, one of new Finnish and New Zealand underground music. We also are in the midst of making masters for an Auntie Dada/Preanderthals release, a Velvet Chrome retrospective, a Shaker Hymns cassette, and new recording by DJ Co-Op/Tim Hoover.
5 :: Kim Mitchell vs. Randy Bachman?

I'm a prairie guy, born and raised. So even though Vinyl Tap is the worst radio show ever — Randy B. all the way.
Prairie Fire Tapes Discography (to date)
PF-001
::
White Dog // Gomeisa
–
Split
(2010, Cassette)
PF-002
::
Art Muscle // no Rgans
–
Split
(2010, Cassette)
PF-003
::
Repulsive Bile
–
Emetophilia
(2010, Cassette)
PF-004
::
Solars
–
Mist
(2010, Cassette)
PF-005
::
White Dog
–
Retribution
(2010, Cassette)
PF-006
::
Museums of Sleep
–
Self Titled
(2010, Cassette)
PF-007
::
Pretty Princess // Secret Girls
–
Split
(2010, Cassette)
PF-008
::
White Dog
–
Holodomor
(2010, Cassette)
PF-009
::
Gomeisa
–
Blossoming Flesh
(2010, Cassette)
PF-010
::
Peter J. Wood Free Jazz Ensemble
–
Like Lions
(2010, Cassette)
PF-011
::
Vomir
–
Untitled
(2010, Cassette)
PF-012
::
Unearthed
–
Death Kiss
(2010, Cassette)
PF-013
::
White Dog
–
The Harvestman
(2010, Cassette)
PF-014
::
KkrakK!
–
Subatomic Vibrations
(2010, Cassette)
PF-015
::
Dried Up Corpse
–
Death March
(2010, Cassette)
PF-016
::
Greenhouse
–
Golden City
(2010, Cassette)
PF-017
::
Fossils
–
Flame Disc Revisited
(2010, Cassette)
PF-018
::
White Dog
–
Self Titled
(2010, Cassette)
PF-019
::
Tom Carter
–
Numinous
(2010, Cassette)
PF-020
::
Gremlynz // Ajilvsga
–
Split
(2010, Cassette)
PF-021
::
Dim Dusk Moving Gloom
–
Blinded by the Natty White
(2010, Cassette)
PF-022
::
MSSNG // Greenhouse
–
Split
(2010, Cassette)
PF-023
::
Pink Priest // Horders
–
Split
(2010, Cassette)
PF-024
::
Gomeisa
–
Tourniquet
(2010, Cassette)
PF-025
::
Jane Barbe // Akrotiri Poacher
–
Split
(2011, Cassette)
PF-026
::
Kplr
–
Mechanical Mind Space b/w Mechanical Motion Simulator
(2011, Cassette)
PF-027
::
Shiver
–
The Taste of Repent
(2011, Cassette)
PF-028
::
Worker
–
Dream Dead
(2011, Cassette)
PF-029
::
Black Hippies
–
Wicker House
(2011, Cassette)
PF-030
::
White Dog
–
Resistance
(2011, Cassette)
PF-031
::
Alms
–
Annihilation of the Self
(2011, Cassette)
PF-032
::
Secret Girls
–
In Hiding
(2011, Cassette)
PF-033
::
Mongst
–
Water Water Everywhere But Not a Drop to Drink
(2011, Cassette)
PF-034
::
White Creeps
–
White Sleep
(2011, Cassette)
PF-035
::
White Dog Family Band
–
Escape the Mystery II
(2011, Cassette)
Dub Ditch Picnic Discography (to date)
1971.001
::
The Incinerators
–
The 90s Wuz Awesome
(2010, Cassette)
1971.002
::
Art Muscle
–
No Emulsion
(2010, Cassette)
1971.003
::
F.P. Tranquilizer vs. The Incinerators
–
(2010, Cassette)
1971.004
::
F.P. Tranquilizer
–
Summer Tape
(2010, Cassette)
1971.005
::
Outer Spacist
–
Tape
(2010, Cassette)
1971.006
::
No UFO's
–
Mind Control
(2010, Cassette)
1971.007
::
Krautheim
–
Mädchen auf der Rennbahn
(2010, Cassette)
1971.008
::
Fletcher Pratt
–
Dub Sessions Vol. 1
(2011, Cassette)
1971.009
::
xNoBBQx
–
Live @ Louie's
(2011, Cassette)
1971.010
::
Microdot
–
Lamps Not Amps
(2011, Cassette)
---
---
---