New Canadiana :: Holy Cobras – Forever
---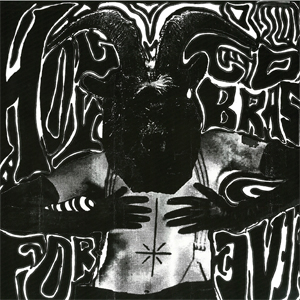 Holy Cobras
Forever
Ottawa, ON

Ottawa mutants
Holy Cobras'
first LP is a stacked heap of sharp acid tones and
sweaty rowdiness
. Amidst their signature psychedelic mess of shredded samples and blazed electronics, the Cobras lay down 11 cuts of ear-blasting,
drum-bashing
goodness. As with any previous release in their immaculately scuzzy discography,
Forever
is a total must-grip for all Chrome fans and/or any 9-5 folks in need of wasting a few neurons.
Du sous-sol délabré de Gabriel Jasmin:
Véritables mutations d'Ottawa, les Holy Cobras lancent un premier vinyle comme une tonne de tons acides et un branle-bas de combat suant. Usant de leur habituel fouillis psychédélique de samples déchiquetés et d'électroniques disjonctés, les Holy Cobras proposent onze morceaux de pulsations primitives découpés à la tronçonneuse. Une parfaite addition à leur discographie immaculée et crasseuse, Forever est un essentiel pour les fans de Chrome et/ou tous ceux qui ont besoin de javelliser quelques neurones après une semaine de neuf à cinq.
[audio:http://weirdcanada.com/wp-content/uploads/2011/07/Weird_Canada-Holy_Cobras-Never_Let_Me_Down.mp3|titles=Holy Cobras – Never Let Me Down] Holy Cobras – Never Let Me Down
[audio:http://weirdcanada.com/wp-content/uploads/2011/07/Weird_Canada-Holy_Cobras-Take_My_Soul.mp3|titles=Holy Cobras – Take My Soul] Holy Cobras – Take My Soul
---
---
---