Festivities :: SappyFest 2011
---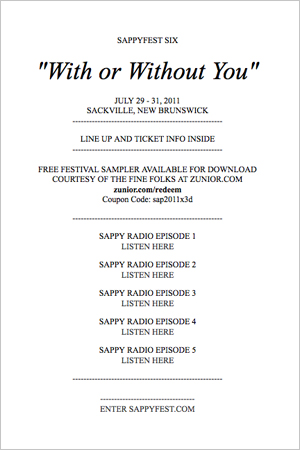 Various Artists
SappyFest 6
Sackville, NB
From the cult-like gathering of James Goddard:
The small college town of Sackville, New Brunswick harbours a secret. Every summer while students shop for discount books in major cities, a cult-like gathering of outsiders convenes to celebrate strange sounds in large tents, vaudeville theatres, small town cinemas and railside taverns. Turning the concept of a multi-venue festival on its head each year, SappyFest finds not the alterna-side spaces where loud noises are welcome but puts all the plaid shirts, fuzz peddles and puddles of beer right on the main street. First hosting the reunited Eric's Trip in 2006, Sappy has grown and grown. This year's lineup promises not to disappoint, showcasing the luminaries of independent Canadian culture both new and old, familiar and not. Alongside as yet un-tauted gems such as Cannon Bros, Hash Jesus, SILKEN LAUMANN and Wooden Wives, this year's lineup boasts sets by current Weird Canada favourites Jennifer Castle, Chad VanGaalen, Rich Aucoin, Gobble Gobble, Grimes and Quaker Parents. And that's just the pop music. See you there?
Du rassemblement de culte de James Goddard: (Traduit par Odile Leclerc)
De la petite ville de collégiale de Sackville, New Brunswick abrite un secret. Chaque été pendant que des étudiants magasinent pour des livres à rabais dans les plus grosses citées, un rassemblement culte d'étrangers à lieu pour célébrer des sons dans de larges tentes, des théâtres de variété, des cinémas de petites villes et des tavernes ferroviaires. Tournant les concepts d'un festival multi-sites sur sa tête chaque année, SappyFest ne trouve pas les espaces de côté alterna où de bruits forts sont bienvenues mais tous mis sur des chemises à carreaux, du colportage flou et des flaques de bière directement sur la rue principale. Accueillant en premier le Trip d'Éric réunis en 2006, Sappy a grandit et grandit. Les lignes d'attente de cette année promettre de ne pas décevoir, mettant en valeur les lumières de la culture indépendante Canadienne autant nouvelle que vieille, familière et non. Au côté des gemmes pas encore vantés telles que Cannon Bros, Hash Jesus, SILKEN LAUMANN et Wooden Wives, la file d'attente de cette année vante l'ensemble du présentement favoris de Weird Canada Jennifer Castle, Chad VanGaalen, Rich Aucoin, Gobble Gobble, Grimes and Quaker Parents. Et c'est juste pour la musique pop. Je vous vois là?
---
---
---