Departures :: Bernard Bonnier – Casse-Tête Musique Concrète
---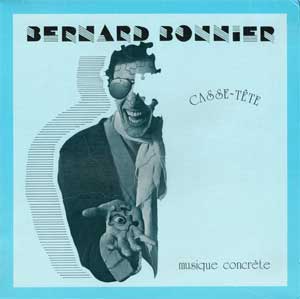 Bernard Bonnier
Casse-Tête Musique Concrète
(Amaryllis)
Quebec City, QC
Originally Released: 1984

After studying with musique concrète demigod
Pierre Henry
, Bernard booked it to Quebec City and brewed his incredibly forward-scheming proto-dance collage.
Casse-Tête
, literally translating to "Head-Breaker", is a puzzling exploration of break-beat montage. Bernard scaffolds the boundaries of rhythmic sensation and pounds through scraps of sinusoidal decay, beating societies remnant audio into a violent drum-laden melee of modern-dance predication. No less revolutionary than the acid-house visions of
Charanjut Singh
, Bernard's genius resides in pushing these limits from the forgotten snippets of sound permeating our everyday ether. Originals are
tough
; thankfully
reissues exist
. Canon grip.
[audio:http://weirdcanada.com/binary/Weird_Canada-Bernard_Bonnier-I_Cant_Sing.mp3|titles=Bernard Bonnier – I Can't Sing] Bernard Bonnier – «I Can't Sing…»
[audio:http://weirdcanada.com/binary/Weird_Canada-Bernard_Bonnier-La_Grincant_Mr_Smile.mp3|titles=Bernard Bonnier – La grinçant Mr. smile] Bernard Bonnier – La grinçant Mr. smile
---
---
---