Departures :: Bernard Bonnier – Casse-Tête Musique Concrète
---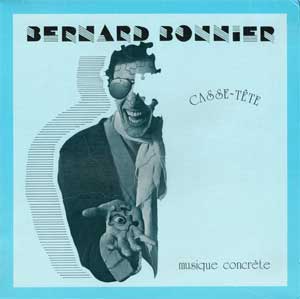 Bernard Bonnier
Casse-Tête Musique Concrète
(Amaryllis)
Québec, QC
Originally Released: 1984
From the Italian junk food of Aaron Levin:
After studying with musique concrète demigod Pierre Henry, Bernard booked it to Quebec City and brewed his incredibly forward-scheming proto-dance collage. Casse-Tête, literally translating to "Head-Breaker", is a puzzling exploration of break-beat montage. Bernard scaffolds the boundaries of rhythmic sensation and pounds through scraps of sinusoidal decay, beating societies remnant audio into a violent drum-laden melee of modern-dance predication. No less revolutionary than the acid-house visions of Charanjut Singh, Bernard's genius resides in pushing these limits from the forgotten snippets of sound permeating our everyday ether. Originals are tough; thankfully reissues exist. Canon grip.
De la malbouffe italienne d'Aaron Levin: (Traduit par Odile Leclerc)
Après avoir étudié avec le demi-dieu de la musique concrète Pierre Henry, Bernard s'est
bouclé pour la ville de Québec et a mijoté son incroyable collage de
proto-danse de planifications en avance. Casse-Tête, traduisant littéralement à
''Brise tête'', est une exploration déroutante d'un montage de break beat.
Bernard échafaude les limites d'une sensation rythmique et martèle à travers
des morceaux de pourriture sinusoïdale, battant les restants audio des sociétés
en une violente mêlée chargée de batterie d'une prévision de danse moderne. Pas
moins révolutionnaire que les visions de maison acide de Charanjut
Singh, Le génie de Bernard réside dans pousser ces limites de bribes de
sons oubliés imbibant notre éther de tout les jours. Les originaux sont dures; heureusement, des republications existent. Saisi canon.
Bernard Bonnier – I Can't Sing
Bernard Bonnier – La grinçant Mr. smile]
---
---
---