New Canadiana :: Ultrathin – Glass City b/w Don't Mess
---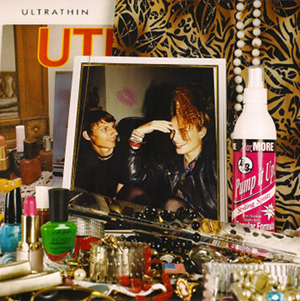 Ultrathin
Glass City b/w Don't Mess
Montreal, QC
From the broken glass diet of Benoit Poirier:
There once was a time when Ultrathin were taking things a bit smoother as a four piece. As a trio, these Montrealers present this 7" of ripping garage punk with pummeling drums that will take you through both sides of the wax without the hope of a Sunday brunch. "Glass City" charges with no fear of what's ahead and ends with scars in the face (plus a shredding solo). The cadence slows down on the other side for the ridiculously heavy "Don't Mess" so those bros can play, hit and shout louder. There's something slightly evil in the band's energy, and this is for the lion, not the lamb. Because you have it better when your middle name is Danger.
Du régime de verre cassé de Benoit Poirier:
Fut un temps où Ultrathin prenait ça plus relax à 4. Devenu trio depuis plus d'un an, les Montréalais ont commencé à donner des coups de pied dans des affaires pour présenter un premier 7″ de punk garage lacérant avec le tapochage de drum bien placé qui te mène des deux bords de la puck cirée sans te laisser envisager le brunch dominical . « Glass City » part la patente en lion, fonce en n'ayant peur de rien et se termine avec des grafignes dans la face (pis merci pour le solo). La cadence ralentit de l'autre côté sur la ridiculement pesante « Don't Mess » pour permettre aux bros de jouer, taper pis crier plus fort. Il y a quelque chose de torvisse dans leur énergie; c'est pas pour les agneaux. Parce que c'est mieux si ton nom de famille c'est Danger.

Ultrathin – Glass City b/w Don't Mess
---
---
---